CALA MIJAS FESTIVAL 2022 Tickets
Cala Mijas, Málaga.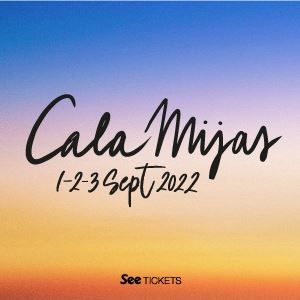 Mehr Informationen über CALA MIJAS FESTIVAL 2022 Tickets
The last weekend of summer. On 1, 2 and 3 September 2022, the Malaga municipality of Mijas will host The first edition of the festival Cala Mijas 2022, will fill the Costa del Sol with music by bands as important as Arctic Monkeys, Kraftwerk, Blossoms, Chet Faker and Love of Lesbian...
It will have an exclusive camping for 5 nights for 25€ from Wednesday August 31 to Monday September 5.
Cala Mijas Festival. The perfect end to your vacations
Minors under 16 years of age may only enter accompanied by an adult and with the following AUTHORIZATION.
Children over 16 but under 18 may enter the venue alone by signing this AUTHORIZATION.
Children under 10 years old enter free of charge and must be accompanied by the followingAUTHORIZATION
TICKET PURCHASE AVAILABLE IN INSTALMENTS
You can pay for your purchase in a maximum of 3 convenient instalments, up until the closing date of 30/06/2022 at 23H59pm.
During the purchasing process you will be given the option to choose the instalment purchase at the bottom of the page.
Once the instalment purchase has been selected, the first instalment (and associated operational fees) will be charged and the remaining two instalments will be automatically paid by direct debit by the date of the festival (as per payment schedule below).
If you have not paid in full by the date of the last payment, you will lose your booking rights and therefore any rights to the ticket in accordance with our legal terms and conditions. There is no refund for non-payment of one or more instalments.
The instalment purchase is subject to the same terms and conditions as the general purchase.
The festival ticket is sent to your email as soon as all instalments are paid.
Instalment collection map:
For purchases made until 31 January 2022
2nd instalment will be charged on 01 March 2022
3rd instalment will be charged on 01 May 2022
For purchases made between 01 February 2022 and 31 March 2022
2nd instalment will be charged on 01 May 2022
3rd instalment will be charged on the 1st July 2022
For purchases made between 01 April 2022 and 30 June 2022
2nd instalment will be charged on 01 August 2022
3rd instalment will be charged on 01 September 2022