FABRIK SLAM #94
Rote Fabrik, Zürich.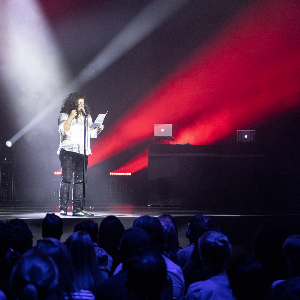 Sitz- und Stehplätze gemischt.
Sitzplatzreservation ist nicht möglich.
Frühes Erscheinen erhöht die Chancen der freien Platzwahl.
More information about FABRIK SLAM #94 tickets
Der vierundneunzigste Fabrik Slam. Langsam aber sicher geht es kerzengerade auf die Hundert zu. Das wird, so das Universum es will, gegen Ende des Jahres der Fall sein. Bis dahin ist aber noch ein wenig Zeit – und diese kann man sich bei bester Unterhaltung, ja wo denn? Na klar: bei einem Fabrik Slam vertreiben. Zum Beispiel diesem, mit der Nummer 94. Wie gewohnt, rasant moderiert von Rhea Seleger und Etrit Hasler und musikalisch untermalt und getaktet von DJ Rastapopoulos. Das Publikum ist von enormer Wichtigkeit, den einerseits sorgt es für den Hexenkessel, dessen Atmosphäre die Poetinnen und Poeten zu höchster Vortragskunst anregt und andererseits trifft es die Entscheidung über den Sieg und damit den Gewinn der Trophäe in Form einer Flasche Single Malt Whisky.


Concert or event promoter?
Sell and publicise your event here to millions of potential customers today...