Liberty and Justice
Sedel, Emmenbrücke.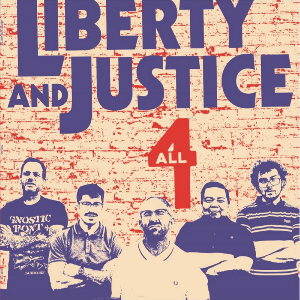 Mehr Informationen über Liberty and Justice Tickets
While taking traditional cues from the likes of The Templars and 4Skins, L&J aren't content to make by-the-numbers Oi. Instead giving nods to the channeled HC ferocity of Sheer Terror, the sing-along sincerity of The Trouble, the hard-scrabble outsider rock sensibilities of The Bruisers, and fight-ready mentality of Houston originalists Tread. Featuring current and former members of Thug Boots, Roger Miret and the Disasters, and Darkbuster, L&J have come together to unapologetically force their own voice through to the fore and out on to the streets.


Planen oder veranstalten Sie einen Event?
Hier können Sie Ihre Veranstaltung bei Millionen von potenziellen Kund*innen bekannt machen und Tickets verkaufen...