Ohh! La La! Chérie! Burlesque Striptease Show März
Plaza Klub, Zurich.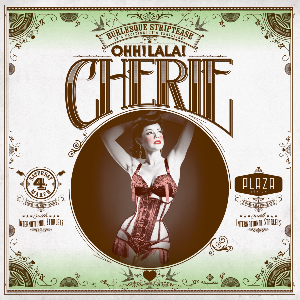 A burlesque Varietease-Show with international Starlets & Artists
It's exciting, it's thrilling!
Tür 19h / Show 19.30h / Plaza Bar 19h
Ab 18 Jahren
Vorverkauf CHF 48.-
Aquest esdeveniment és només per a majors de 18 anys. No es realitzarà cap reemborsament per a persones menors de 18 anys.
Més informació sobre els tiquets de Ohh! La La! Chérie! Burlesque Striptease Show März
Starring:

Hazel Honeysuckle
(New York, USA)
www.hazelhoneysuckle.com

Mara de Nudée
(Paris, FR)
www.maradenudee.com

Aleksei Von Wosylius
(Brussels, BE)
www.instagram.com/aleksei_von_wosylius

Michelle Sky
(Berlin, DE)
www.instagram.com/_michelle_sky

Emma Mylan
(Geneva, CH)
www.emmamylan.ch
Stage Manager: Mr.Allison Saphir

French Maids: Lola Kowski
(Lausanne, CH) & Liu Boheme
(Zurich, CH)
Hosted by: La Big Bertha (Paris, FR) & ROCKIN' DJ GRAU
Art Director:
Emma Mylan
Das Plaza präsentiert eine frische und aufregend fröhliche Burlesque-Nacht mit internationalen Tänzerinnen, ausserordentlichen Künstlerinnen und packenden Feuer- und Trapez-Darbietungen: sinnlich, sexy, aussergewöhnlich.
Anregend für die Damen von Welt, aufregend für die Herren der Schöpfung. Eingepackt in
"music that makes your heart rock" von DJ Grau
und mehr als nur moderiert von La Big Bertha aus Paris werden auch deine Sinne mit Sicherheit Feuer fangen...