Pedestrians Tickets
ZAK, Jona.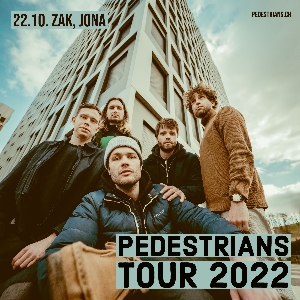 Mehr Informationen über Pedestrians Tickets
(DE) Remember!
«Forget» heißt die neueste Single von Pedestrians.
Wie wenn der Song im Innern eines Kopfes spielen würde.
Eine Hymne, die uns daran erinnert, das Gute nicht zu vergessen.
Leichter gesagt als getan: häufig sind es die guten Erinnerungen, die richtig reinhauen können.
Mit der letzten Single «Superglue» und der neuesten «Forget» beginnt für die Band aus der Schweiz ein neues musikalisches Kapitel. Während die Konzertbühnen weltweit verstummten, haben diese Tracks ihre Form angenommen. Der große Einfluss, den diese Zeit auf die Atmosphäre in den Proberäumen und Studios hatte, widerspiegelt sich in der Musik: Zusammengerückt und intimer klingen die Arrangements, die Ausbrüche sind umso bewusster und bewegt.
Bekannt sind Pedestrians für ihren Genre übergreifenden Sound, ihre energiegeladenen Live Performances an Openairs (Gurtenfestival, Open Air St. Gallen, Openair Frauenfeld, Reeds Festival, Heitere Open Air, etc) und in internationalen Musikklubs (Schweiz, Deutschland, Niederlande, UK, Frankreich, etc.).
(ENG) Remember!
Pedestrians' newest single «Forget» is out now.
As if it was playing inside someone's head.
A hymn that reminds us of how important it is not to forget the good. Easier said than done. Often, it's the good memories that hit the hardest.
«Forget» and «Superglue», which was released earlier this year, are the start to a new chapter for the Swiss band: The silence on stages worldwide has had a big effect on the atmosphere at the studio and on rehearsals. The sound mirrors this. It seems like the band has moved closely together to create more intimate arrangements that, at the same time, still allow for dynamic outbreaks.
Pedestrians are known to deliver live performances that are full of energy. The band can look back on an amazing list of heartfelt shows at international music festivals and clubs (Switzerland, Germany, Netherlands, France, UK, etc.).
Mike Bill (Vocals), Loïc Bawidamann (Bass), Davis Knecht (Guitar), Raphael Erhardt (Keys/Sax), Sascha van den Berg (Drums).


Links:
Link Website: https://www.pedestrians.ch/
Link Insta: https://www.instagram.com/pedestriansmusic/
Link FB: https://www.facebook.com/pedestrians.ch
Link Youtube: https://www.youtube.com/c/Pedestriansmusic
Link TikTok: https://www.tiktok.com/@pedestriansmusic
Link Spotify: https://open.spotify.com/artist/0TGB8aMUgpkcvK5wQ4vUGj
Link Apple Music: https://music.apple.com/ch/artist/pedestrians/958798902
Planen oder veranstalten Sie einen Event?
Hier können Sie Ihre Veranstaltung bei Millionen von potenziellen Kund*innen bekannt machen und Tickets verkaufen...