TEDxEcublens 2022
Swiss Tech Convention Center, Ecublens.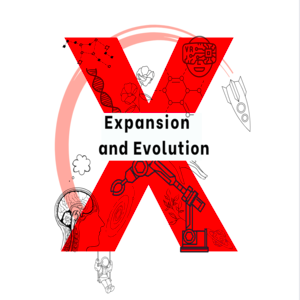 Closing date for ticket sales: October 9th, 2022, at 23:59
Event held in English.
Building accessible to people with reduced mobility.
Mehr Informationen über TEDxEcublens 2022 Tickets
In the program:

1. Eline Van Der Beek -
Nutritional Programming During the First 1000 Days: A Window for Adult Disease Prevention
Eline Van Der Beek is the Head of Nestlé Institute of Health Sciences (EPFL) since April 2021. She worked as the research director for Early Life Development at Danone Nutricia Research in Singapore, the first center in Asia to focus on maternal and child health. She has been appointed as Special Professor of Nutritional Programming at the University Medical Centre Groningen, University of Groningen. Her work surrounds mainly the study of the effects of nutrition on health and nutrient quality and specific needs during different stages of development. Eline is a (co)inventor of more than 25 patent applications and has published over 80 articles in peer reviewed journals.

2. SAYPE - Art to Serve Humanity?
Guillaume Legros is a self-taught artist and a nurse by training, who is nowadays considered a pioneer of a new land art movement. He began painting graffities in the streets of France at the age of 14. His pseudonym Saype is formed from the contraction of "Say" and "Peace", which are both words he used in his graffities from an early age. He first started exhibiting works in art galleries at the age of sixteen. Passionate about philosophy and existential questions, his paintings most often explore issues around the human being. Through his work he shares his vision of the world, inviting us to question our deep nature and spirit, as well as our place on earth and society. He is famous for painting large frescos on grass, using a style that mixes graffiti and land art (a contemporary art movement that uses the framework and materials coming from nature). These paintings are completely biodegradable and their ephemeral nature causes them to evolve according to the weather, the regrowth of grass, the passage of visitors, etc. Having to face physical, logistical and technical challenges, the artist expresses the idea of "humility" of man against the world and nature. In 2019, Forbes ranked him among the 30 most influential people in the world under 30 in the field of art and culture.

3. Matteo Pariset - News in 4k: The True Face of Ineffective News.
Matteo studies Computer Science Theory at EPFL and devotes most of his days to signal processing, algorithms, data structures and sunbathing. Despite not knowing much about biology, he got fascinated by the beauty of proteins. As a result, he is now using artificial intelligence to help a biotech startup teach the charm of these molecules to computers. Besides trying to understand (and to debug) machine learning models, Matteo is also deeply interested in the societal impact of this technology: he has officially selected online misinformation as his favorite topic of discussion, replacing the much beloved endless debates about politics and food. Meanwhile, to move from words to deeds, he is developing nugget.news — a decentralized news distribution platform designed to promote a fair and open access to information.

4. Muriel Richard Noca - Heavy Traffic Jam in Space

Muriel Richard Noca is the Co-Founder and Chief Technology Officer of ClearSpace, a ground-breaking initiative based in Switzerland to clear up Space debris. ClearSpace provides in-orbit services to support institutions and commercial operators in accomplishing their space missions safely and sustainably. She received the M.Sc. degree in mechanical engineering from the California Institute of Technology, Pasadena, CA, USA, in 1996. She worked at NASA's Jet Propulsion Laboratory (JPL) from 1994 until 2005, early on for the Mars Program, and then for the Advanced Propulsion Technology Group. She became a Senior Engineer in 2001 when she moved to JPL's Mission Architecture Group. In 2005, she joined the Space Center at EPFL to manage the SwissCube satellite project, and later managed the "Clean-mE" research and technology development program on active debris removal. From January 2012 to July 2020, she has been the Deputy Director of the newly renamed Swiss Space Center at EPFL.
**Walking dinner and networking**


5. Lucie Chollet et Romane Picheral - Projet22: An Improvised Musical Performance
Lucie Chollet is a passionate cello instructor as well as a classical cellist, passionate about orchestra, period playing, and contemporary music. She first tried playing cello when she was five, and started taking classes at the age of six. She completed her bachelor's and master's degrees at the Haute Ecole de Musique of Lausanne and is an alumni of the Academy Les Siècles and the Schleswig Holstein Festival Orchestra as well as the Lucerne Festival Academy. In addition to that, she is extra player in the Zürcher Symphoniker since 2019. Lucie Chollet is passionate about teaching and currently studies music pedagogy at the Bern Academy of the Arts.
Romane Picheral is a part of the Bloom trio since 2017 (guitar, cello and clarinet), where she plays chamber music. She is also part of the concerts of the orchestra of the Haute Ecole de Musique of Lausanne. Passionate about playing clarinet from an early age, she enrolled in the Regional Conservatory of Nice at the age of seven. After obtaining her diploma, she had the chance to work for two years in Michel Lethiec's class in Nice. In 2016 she began her bachelor studies at the Haute Ecole de Musique of Lausanne.

6. Hai Nhu Pham - Third Culture Kids, the Model Citizen of the World
"In 2005, I was a six-year-old Vietnamese girl who, for the first time in her life, was leaving her native country to live in Switzerland, to learn foreign languages, to meet new people from an entirely different culture. Thus, very early on, I was exposed to the cultural divergences between East and West, to the effects of the culture shock deployed by this drastic experience. I was constantly living in a cultural opposition. Between the Swiss part of my identity which I acquired at school, and the Vietnamese part of me which remained from my upbringing, I no longer knew in which world I belonged: they were parallel universes – polar but complementary at the same time. Now, as a 23-year-old Master's student who has spent half of her life in Switzerland, I have solved this riddle. By sharing my experience with other individuals who have the same background, who have lived through the same dilemma as me, I was able to find solace in my sense of rootlessness, to appreciate it and let it blossom into a sense of belonging. Hence, my purpose is to share this process with other people who may be fighting the same battle, in order to help them find their own global identity." - Hai Nhu Pham.


7. Chan Cao - Storing Data Like Nature.
Dr. Chan Cao is head of the Laboratory for Bio and Bio-Inspired Nano systems at EPFL. Following her award of the prestigious PRIMA grant from the Swiss National Science Foundation in 2020, she founded her own research group at EPFL's School of Life Sciences. Her work covers different aspects of molecular nanotechnology with a high focus in biological nanopore sensing, and also addressing major questions in life science and also in diagnosis. Moreover, Dr. Cao is heavily investigating how DNA Nanostructures could be used as a completely new way of storing digital data. This new biological data storage system could have the potential to replace conventional storage systems such as servers and hard disks, thereby mitigating some of the issues that these storage systems are causing to our planet, such as the increasing amount of energy they consume each year.

8. Alexandre Alahi - Socially Aware AI.
Dr. Alexandre Alahi is currently an Assistant Professor at EPFL. After obtaining his Ph. D from EPFL, he spent multiple years at Stanford University as a Post-doc and Research Scientist before returning to Switzerland in 2017. His research uses Computer Vision and Machine Learning applied to transportation problems and Smart Environments. In his lab, he works on socially aware Artificial Intelligence (AI), a type of AI, augmented with social intelligence. This means that the machines can identify different social situations, moods or predict trajectories from video images, thus anticipating social etiquettes & free will. This opens a new path for driven AI systems. In 2022, Alahi was recognized by AMiner as one of the top 100 Most Influential Scholars in Computer Vision over the past 10 years. His work has been licensed to several companies and covered internationally by BBC, abc, PBS, Euronews, Wall street journal, and other national news outlets around the world. Alexandre has also co-founded multiple startups such as Visionsafe, and won several startup competitions. He was elected as one of the Top 20 Swiss Venture leaders in 2010.


--------------------------------------------------------------------------------------------------------------
* Public transport: m1 metro, stop EPFL
* Free car parks on the EPFL campus from 5 p.m.: Parking Colladon, Parking Rivier, Avenue J-R. Perronet
--------------------------------------------------------------------------------------------------------------
This event is made possible thanks to the support of our premium partner:
Service de la Promotion de l'Économie et de l'Innovation du Canton de Vaud (SPEI)

Planen oder veranstalten Sie einen Event?
Hier können Sie Ihre Veranstaltung bei Millionen von potenziellen Kund*innen bekannt machen und Tickets verkaufen...