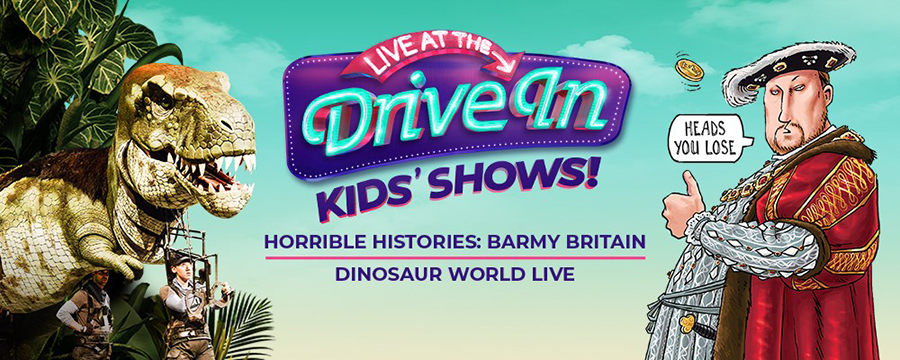 'The Drive In' at Troubadour Meridian Water announces live theatre for families and kids this summer with Live at 'The Drive In': Kids' Shows. Initial programming includes the West End production of Horrible Histories - Barmy Britain from 19th to 23rd August 2020 and the roarsome interactive show Dinosaur World Live from 7th to 30th August 2020.
The Drive In is fully contact-free. The gruesome and hilarious facts of Horrible Histories and the majestic roars of Dinosaur World Live will be played direct to your vehicle's FM radio. Performances are in a raised central location and will be relayed back to the giant cinema screen, giving everyone a great view wherever they park up. Snacks and drinks are available to order from your mobile and will be safely delivered to your car by a team of 1950s drive in attendants.
Good movies are meant to be shared. That's why we're working with specialist health and safety experts so families can enjoy the magic of the silver screen together - safely.
The staff will be following strict protocols to ensure the safety of our team and all our Drive In guests.
The Drive In will be a fully contact-free experience, ensuring a safe environment to enjoy the latest movies and entertainment. Cars will be parked 2 metres apart, tickets will be scanned through closed windows, and refreshments will be ordered via app and delivered to your vehicle by our trained crew.