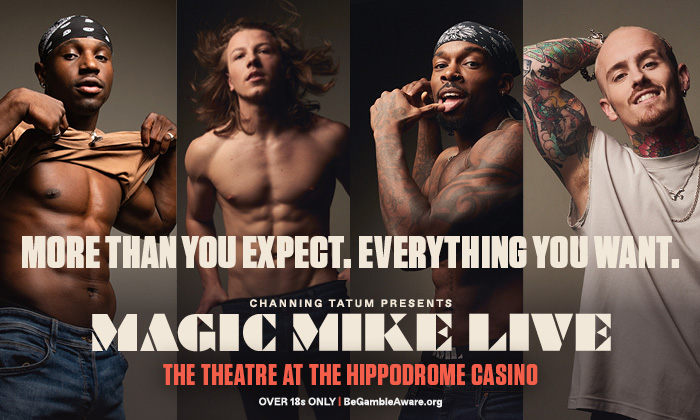 MAGIC MIKE LIVE is the global stage sensation that hit the big screen in 2023's Magic Mike's Last Dance! This third instalment in the Magic Mike film franchise tells the origin story of the hit stage show that's been seen by over a million people from Las Vegas to London to Sydney to Miami. Check out Magic Mike's Last Dance to see how it all began? and then experience the magic for yourself, LIVE ON STAGE!
Conceived and directed by Channing Tatum, MAGIC MIKE LIVE is an unforgettably fun night of sizzling, 360-degree entertainment based on the hit movies. It's hot. It's hilarious. It's the great time you've been waiting for!
If you're looking for the ultimate girls' night out or an electrifying date night, look no further than MAGIC MIKE LIVE. If you're NOT into letting your hair down, laughing out loud and really hot guys, then it's probably not for you. It's time to FREE YOUR MAGIC!
Booking Period: Until 31 Dec 2023
Performance Times: Wednesday to Sunday 7pm, Thursday to Saturday 9.30pm, Saturday & Sunday 4:00pm.
Running Time: 90 minutes, no interval.
Age Restriction: Please note that Magic Mike Live is strictly an OVER 18's ONLY event. Original Hard Copy ID must be presented on arrival at the Hippodrome Casino. If ID is requested to be shown and not available, admission will be refused.
Venue:The Theatre at The Hippodrome Casino, Cranbourn Street, Leicester Square, London WC2H 7JH
Booking from 3 Jan until 30 Jun 2024