The Price
Wyndham's Theatre, London.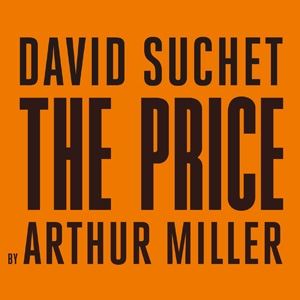 More information about The Price tickets
Reasons To See It




David Suchet has said this will probably be his last stage performace. Famous for his role as Hercule Poirot in the ITV drama Poirot, he is considered one of the great actors of the stage - his final performance definitely should not be missed.

Brendan Coyle is best known for his role as the valet, "Bates", in Downton Abbey. He is an Olivier-Award winning actor who has worked extensively on stage and screen.

Arthur Miller is considered one of the greatest American writers of the 20th century, winning a whole host of awards. Inspired by his personal life, both in childhood and later his marriages (one to Marilyn Monroe), his plays are often intense family dramas that deal with the larger issues of the world crashing in.

Jonathan Church is currently Artistic Director of the Bath Theatre Royal Summer Season. He was Artistic Director of Chichester Festival Theatre and Artistic Director of Birmingham Repertory Theatre. Dubbed "the turnaround king" he is known for turning struggling theatres into top performing venues in the UK.




The Hype

★★★★★ "The Price stands confirmed, in Jonathan Church's exemplary revival at Bath, as one of the most richly affecting plays ever written about family resentment and the corrosive business of determining who gave what, who got what, who's owed what, and who decides what's fair." - The Telegragh

★★★★ "outstanding production of Arthur Miller's drama" - The Stage

★★★★ "Miller's 50-year-old play emerges as one of his best, as two estranged brothers learn the cost of dividing the family spoils" - The Guardian

The Story

Two brothers, Victor and Walter Franz, one a New York cop nearing retirement, the other a successful surgeon meet for the first time in sixteen years to sell their family furniture stored in the attic of a condemned New York brownstone. Revelation follows stunning revelation as each brother realises the price they have paid for heart breaking decisions made decades earlier.

Overseeing the psychological battlefield is the wily veteran appraiser, Gregory Solomon, who has his own demons to conquer as well as securing the best possible price for the Franz family possessions.

This fiftieth anniversary production of Arthur Miller's richly affecting play - which, like his better known works, mines his preoccupation with the pleasures and perils of the American Dream - transfers from a sell-out run at the Theatre Royal Bath where it was hugely acclaimed by critics and audiences alike.

THE PRICE

Booking period: 5 February - 27 April 2018

Running time: 2 hours and 40 minutes

Age recommendation: TBC - As an advisory to adults who might bring young people. All persons under the age of 16 must be accompanied by and sat next to the accompanying adult. They may not sit on their own within the auditorium. If children do have separate seats you could be refused entry. All persons entering the theatre, regardless of age, must have a ticket.