The Silencers en Madrid Entradas
Sala Copernico, Madrid.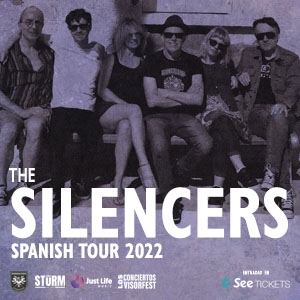 Más información sobre las entradas para The Silencers en Madrid
The Silencers son una banda escocesa de rock formada en Londres en 1986 por dos ex-miembros de grupo post-punk Fingerprintz. Su música se caracteriza por una mezcla melódica del pop, folk y tradicionales influencias celtas. Comparado a menudo con bandas escocesas con un sonido similar como Big Country, Del Amitri, y The Proclaimers, The Silencers se han distinguido con sus sonidos eclécticos, prolífica producción y carrera continuada. Su primer single, "Painted Moon", invitó a comparaciones críticas con Simple Minds y U2. En 1987 lanzaron su primer álbum, A Letter From St. Paul, que incluía "Painted Moon", tema habitual en las salas madrileñas de los 80.