Zoomarine Oceans Of Fun - Dolphin Emotions
Zoomarine Algarve, Albufeira.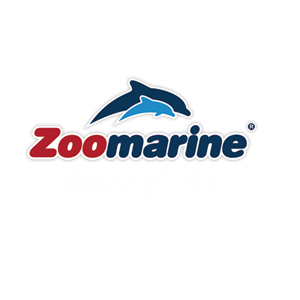 "Campanha de Reabertura -30%" (até 18 de Maio 2021)
Procedimento para a reserva Dolphin Emotions
- Reserva prévia obrigatória para os contactos 289 560 306 ou dolphin.emotions@zoomarine.pt, indicando o número do voucher seetickets.
- Data e hora da experiência sujeita a disponibilidade no momento da reserva. Recomenda-se reservar com uma antecedência mínima de 5 dias;
- Checkin online só após a reserva prévia telefónica/email (necessário para completar os dados de todos os participantes e aceitação do regulamento de participação).
Link do check in online: https://checkin.zoomarine.pt
Más información sobre las entradas para Zoomarine Oceans Of Fun - Dolphin Emotions
1 - Necessita reserva antecipada (mínimo de 24 horas antecedentes à experiência)
2 - Cada participante deverá adquirir um bilhete específico para participação numa das experiências;

3 - Obrigatório respeitar todas as regras de participação para cada programa

4 - Obrigatório apresentar Bilhete de Identidade ou Passaporte para confirmar idade dos participantes.

5- Entrada no parque temático Zoomarine já está incluída no bilhete de participante e de espectador-acompanhante

6 - Crianças menores de 1,00 metro de altura podem assistir gratuitamente como espectadores acompanhantes do participante. Espectadores adicionais deverão adquirir um bilhete específico de acompanhante.

7 - Os espectadores acompanhantes permanecerão num local adjacente à lagoa onde decorre a sessão, não tendo acesso aos golfinhos.

8 - Poderá consultar previamente todas as normas e regulamento do Parque em www.zoomarine.pt

PROMOTER: Mundo Aquático S.A.