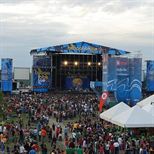 bilhetes para eventos em Bilbao, Spain
Lamentamos, atualmente não há eventos disponíveis.
Informações da sala/local
This venue is built each year specifically for the Bilbao BBK Live. Its is a special complex that is built in Kobetamendi Park. It is located just outside of Bilbao city centre. The venue features three main stages, a DJs Tent, VIP zone, backstage facilities, food and drinks markets, and two camping areas, that total 30,000 m2 (320,000 sq ft) and has a total capacity of 5,000 people.
Por táxi
Radio Taxi Bilbao:(+34) 94 444 88 88 Tele Taxi Bilbao:(+34) 944 442 333 / 944 218 750 Radio Taxi Bizkaia:(+34) 944 218 750
Por autocarro
The hill where the festival takes place is only accessible by shuttle bus. The shuttle bus will leave from San Mames (Bilbao Football Stadium) and BEC (Baracaldo Exhibition Centre) and will be free. They will run every 5 to 10 minutes and will run 24 hours a day.
Estacionamento
The festival parking is located at BEC (Bilbao Exhibition Centre) in Baracaldo.
Acesso para cadeiras de rodas
There is wheelchair access at the venue.
Informações gerais sobre acesso
There will be elevated areas so anyone with mobility problems or Reduced Mobility can see the concerts.