#360RAW11
Lending Room, Leeds.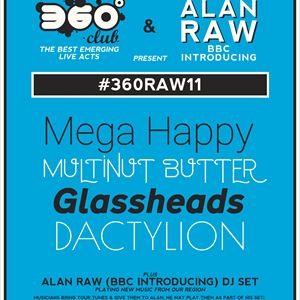 In association with Alan Raw - BBC Music Introducing
A showcase featuring 4 exciting new acts emerging from our region, all are ones to watch!
This event is for 18 and over - No refunds will be issued for under 18s.
More information about #360RAW11 tickets
Mega Happy
https://soundcloud.com/megahappyband/stubborn
"I adore Mega Happy, their songs are just a blast of joy musically with sharply witty lyrics." - Local Sound Focus
"Live, I am struck by how good the band are – the bass grabs you, the drums are cool and the guitar just stabs out these wonderful sounds." - Local Sound Focus
"If you're gonna cover 'Transmission' from Joy Division, you better make it good. Damn good. Mega Happy ab-so-lute-ly nailed it. Stunning to hear live!" - Leeds Gigs
"Superb set last night from Mega Happy at Headrow House?????? " - Leeds Gigs
Indebted to both Post-Punk, New Wave and embracing an independent D.I.Y ethos, Mega Happy comprise an ability to seamlessly weave incongruous elements such as angular guitar riffs and 50s melodies into their neatly crafted pop songs. Their uniquely distilled sound and penchant for live performance has resulted in a buzzing, high-energy atmosphere becoming a staple of their gigs.
===========================================
Dactylion
"From the off, the opening track Hold On sets the scene. Immersive guitars, floating vocals and catchy melodies give the listener a sense of fragile security. As the songs builds, a further sense of desperation is added, pleading with the listener to do just what is asked of them" - Storge
"Amazing talent - ones to watch for sure" – Hidden Herd

"A shoegaze sound that transcends notion of time and place" - The National Student
Who's got the saddest sound? Dactylion do, and they're bringing it to you. The female-fronted shoegaze band (originally formed in Derby) specialise in combining soft, sweet vocals with raw, distorted power to create a DIY soundscape of bliss - exemplified by their phenomenal new single, Stutter.
===========================================
Multinut Butter
https://soundcloud.com/multinutbutter/out-of-time
"Cool, drifting dream pop with jazz and psych elements reminiscent of John Lennon and Tame Impala" - HOT WAXX
"Bloody fantastic – hugely impressive" – Local Sound Focus
Leeds based Psychedelic Pop band bringing you some of the finest in excessive reverb and difficult to decipher vocals.
Multinut Butter blend pop hooks with rowdy rock jams to create a sound reminiscent of Mild High Club, Tame Impala and Connan Mockasin.
===========================================
Glassheads
https://soundcloud.com/user-879124895/i-still-believe
A pop rock band drawing from alternative rock bands, with New Romanticism lyrics and experimental guitar textures. Their songs revolve around fictional narratives and offer listeners an escape from everyday life. Having supported the likes of Neon Waltz, Faux Pas and Arcade Hearts, Glassheads are fast becoming one of the most sort after bands in the Leeds.