'Vision' - the Testimony of Hildegard of Bingen
St. Paul's Worthing, Worthing.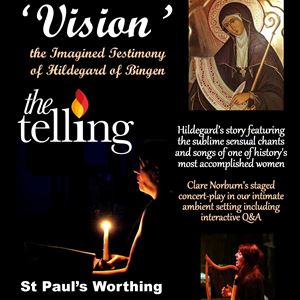 Clare Norburn's concert-play escorts us to Hildegard in her final hours looking back down her starting life of vision and inspirarion. The evening will flow to the hypnotic and haunting sound of her sublime songs and chant.
Unreserved seating In the special ambience we create at St Paul's.
'Vision' at St Paul's is co-funded by Arts Council England and Ambache Charitable Trust
More information about 'Vision' - the Testimony of Hildegard of Bingen tickets
'Vision' – the Imagined Testimony of Hildegard of Bingen
(its full title)
Hildegard of Bingen was a very special woman. She would have been regarded as such, were she living today, but in the 12th century she was a phenomenon. It's her unmistakeable, serene spell-weaving music of devotion – think Gregorian chant, then think freedom – that brought her to our modern attention. But she was so much more than a composer.
She walked this earth 900 years ago but the Benedictine abbess of the German Rhineland is an inspirational modern female icon – and the unofficial patron saint of BBC Radio's Woman's Hour'. The global eco-entrepreneur of our neighbouring Littlehampton, Anita Roddick, was a big admirer. The present social climate around gender has further projected her into being an influential spiritual and philosophical presence for women.
What exactly did she do? Take a deep breath . . .
Hildegarde of Bingen was a writer, poet, natural historian, private linguist, philosopher, natural healer, monastic founder, diplomat, dramatist, composer, visionary and mystic. A polymath so respected she advised many all-powerful men in thrall – bishops, kings, the Pope himself – yet was universally accorded sainthood in only 2012.
Now to St Paul's Worthing on March 21, the International Interview Concerts bring The Telling with 'Vision – The Imagined Testimony of Hlldegard of Bingen'. It's' in a follow-up to this London group's successful debut appearance here on December 19 with their touring candlelight show of medieval and traditional carols, 'Christmas Past'.
The Telling trademark approach to concert matches ours at The Interview International Concerts in its inclusiveness and its melting of margins between concert, drama, and show, to create a more informative and multi-dimensional entertainment.
Clare Norburn creates concert-plays which tell stories about strong figures or significant phases in musical history. Gesualdo and Beethoven are two individual subjects of work now bringing her recognition across the country through radio broadcasts and live performances in London and at key regional events. On 5 January 2019, her concert-play about Purcell was performed at LSO St Luke's in London's Baroque at the Edge Festival at The Barbican.
In 'Vision', Norburn escorts us to Hildegard in her final hours looking back down her life and all the obstacles and opposition she faced to overcome and follow her visions, to reach her aims and personal fulfilment – often at painful expense. And this concert-play will flow to the hypnotic and haunting sound of her songs and early medieval forms of chant.
See Clare's video about 'Vision' here: https://www.thetelling.co.uk/programmes
In the special ambience we create at St Paul's, again also with our guests Bewitched and their stall of appropriate gifts, it will be a distinctive event and another significant one in our development of presented music in Worthing. (See the bottom of this article for sample feedback from 'Christemas Past' on December 19)

The Telling's line-up is purpose-built for each different show. As for 'Christemas Past', their 'Vision' line-up will include an actor, not a reader this time but someone playing Hildegard (to be named).
Again there will be the two singers Ariane Prussner and Norburn herself (who for 'Christemas Past' was ill and replaced at 24 hours' notice by Chloe Lam), and again a harpist, Leah Stuttart (instead of Kaisa Pulkkinen) who also sings.
As usual, seating is unreserved, it's 7pm for 7.30pm, and the full evening includes interviewing and interactive audience Q&A.
We hope you enjoy and are inspired by this very special evening.
The International Interview Concerts
Feedback from 'Christemas Past' . . .
Worthing audience members to The Telling
"What an incredible event it was last night!! It was so, so beautiful and atmospheric. It was all that I was hoping it would be and more! Such a gorgeous way to start Christmas and to feel so soothed and relaxed. The music was incredible and the story telling simply transported me to days gone by! I truly loved it as did my friend who came too.
"I am already looking forward to next year's....please please have another one!!!"
"We very much enjoyed your concert last night in Worthing"
in The Morning Star
"inclusive... non-pretentious... I really wish all 'classical' (for want of a better word) concerts were like this." – columnist Attila The Stockbroker