2018/2019 William Hill World Darts Championship
Alexandra Palace, London.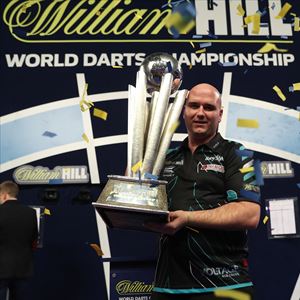 We strongly advise that you use just one browser tab when trying to book tickets and only attempt to purchase tickets for one session at a time in order to avoid possible problems with your transaction.
After you buy, click Split It With PayPal

to easily split ticket money with friends.
More information about 2018/2019 William Hill World Darts Championship tickets
DATE
START
END
MATCHES
FORMAT
Thu Dec 13
1900
2300
3 x Last 96
1 x Last 64
best of 5 sets
Fri Dec 14
1230
1630
3 x Last 96
1 x Last 64
best of 5 sets
1900
2300
3 x Last 96
1 x Last 64
best of 5 sets
Sat Dec 15
1230
1630
3 x Last 96
1 x Last 64
best of 5 sets
1900
2300
3 x Last 96
1 x Last 64
best of 5 sets
Sun Dec 16
1230
1630
3 x Last 96
1 x Last 64
best of 5 sets
1900
2300
3 x Last 96
1 x Last 64
best of 5 sets
Mon Dec 17
1900
2300
3 x Last 96
1 x Last 64
best of 5 sets
Tue Dec 18
1230
1630
3 x Last 96
1 x Last 64
best of 5 sets
1900
2300
3 x Last 96
1 x Last 64
best of 5 sets
Wed Dec 19
1230
1630
2 x Last 96
2 x Last 64
best of 5 sets
1900
2300
4 x Last 64
best of 5 sets
Thu Dec 20
1230
1630
4 x Last 64
best of 5 sets
1900
2300
4 x Last 64
best of 5 sets
Fri Dec 21
1230
1630
4 x Last 64
best of 5 sets
1900
2300
4 x Last 64
best of 5 sets
Sat Dec 22
1230
1630
3 x Last 32
best of 7 sets
1900
2300
3 x Last 32
best of 7 sets
Sun Dec 23
1230
1630
3 x Last 32
best of 7 sets
1900
2300
3 x Last 32
best of 7 sets
Thu Dec 27
1230
1630
3 x Last 32
best of 7 sets
1900
2300
1 x Last 32
2 x Last 16
best of 7 sets
Fri Dec 28
1230
1630
3 x Last 16
best of 7 sets
1900
2300
3 x Last 16
best of 7 sets
Sat Dec 29
1230
1630
2 x Quarter-Finals
best of 9 sets
1900
2300
2 x Quarter-Finals
best of 9 sets
Sun Dec 30
1900
2300
2 x Semi-Finals
best of 11 sets
Mon Jan 1
2000
2300
Final
best of 13 sets