21st Century Queen - Exeter Cathedral Biljetter
Exeter Cathedral, Exeter.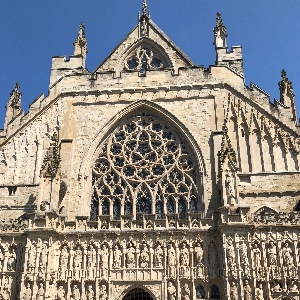 Gates open at 6.30pm and the show starts at 7.30pm. Do feel free to come in suitable Queen costume and clothes as we and many venues shall be having prizes for best dressed parties.
Generally all tickets are non-refundable and in the event of cancellation alternative arrangements shall be made.

This is an indoor event.

This is a standing event, there is no need to bring your own seats. Licenced bar available.

Mer information om 21st Century Queen - Exeter Cathedral-biljetter
Chapterhouse Theatre Company Presents 21st Century Queen
Prepare for the concert of a lifetime as 21st Century Queen recreates many of the bands best known and loved hits including We will Rock You, Radio Ga Ga and possibly the best known single of all time Bohemian Rhapsody. Performing hit after hit of arguably the greatest rock bands of all time and combining stunning vocals and live musicians, 21st Century Queen promises the thrill of hearing the music in an exciting and extraordinarily atmospheric concert performance.

With opportunities for pre-show drinks with family and friends, dressing up nights and singing along to favourite songs, join us for an exhilarating evening of Queen's greatest hits!