A Fistful of Ska 2 - For a few Ska's more
Brudenell Social Club, Leeds.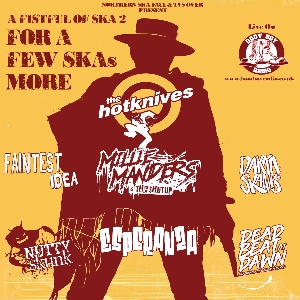 This event is for 14 and over - No refunds will be issued for under 14s.
More information about A Fistful of Ska 2 - For a few Ska's more tickets
PLEASE NOTE Due to events out of our control Sonic Boom 6 can no longer play the July show. They will however headline Fistful 3 next Feb (12th). Sorry for any disappointment.


THE HOTKNIVES The original lineup of the Hotknives existed between 1982 and 1993. They created three albums, the live albums Live at the Boatman and Live & Skankin, and the studio album The Way Things Are. Their catalogue of songs include the live favourites "Holsten Boys", "Don't Go Away", "Skin Up Harry", "Dave and Mary", "Driving Me Mad", "Julie Julie", "W.L.N.", "Alcoholic Nightmare", "One Man And His Dog", "Believe It", and "Man In The Cellar".
The band featured the vocals and songwriting talents of Mick Clare and Gary Marshall. Clare played guitar and occasional harmonica. Marshall played rhythm guitar. Lead guitarist Dave Clifton also had a hand in writing some songs. Kev Clements, who started out as keyboard player, also wrote some songs, and finished up on the trumpet. Micky Matthews played saxophone and featured on "Turkey Stomp" and "Double Barrel". Mick Merritt and Clemmy played bass and drums respectively. Jim Mills took over keyboard duties from Clements. Paul Mumford and Colin Jones provided additional saxophone at times through the band's history.
The original lineup split up in 1993 and reformed a year later, slimmed down to become a four piece band. This consisted of original members Mick Clare and Clemmy with Bosky (Richard Allen) and Marc Carew. Bosky was formerly in Brighton based ska band Too Many Crooks, and Carew continues to play with the Long Tall Texans.
In 1996 the band released their second studio album, Home, on Grover Records and in 2000 followed up with the studio album Screams, Dreams and Custard Creams. In 2003 the lineup changed when Clare left and was replaced by Stuart Brown on guitar, with Carew taking over on lead vocals. In 2010 the band released their latest album, About Time.
In December 2014, a long lost recording emerged via the Facebook page "Fans of all line-ups of The Hotknives", Live & Erect, recorded live at Champagne's Nite Club in Horsham in August 1987. This featured 18 tracks, many of these which appeared on CD for the first time. These included "Dave's Song", "Recovery", "Knocking On Heaven's Door", and "Three Minute Warning".
Millie Manders & The Shutup
Millie creates cross-genre punk that is hard to ignore. With lyricism that pokes fun, draws you in or leaves you questioning social norms teamed with incredible vocal dexterity, grinding guitars, irresistible horn hooks and a pumping rhythm section, the Millie Manders Music Machine churns out more raw punk fusion than you can shake a stick at, with a huge amount of Pop appeal.
Esperanza
A nine-piece ska collective from Glasgow famed for live shows where their infectious rhythm has the crowd involuntarily jumping in time. In hectic years of gigging around Scotland, they have honed and perfected a high-tempo set, combining superb self-penned songs with a selection of ska classics, so that there isn't an ounce of fat left on it.The quality of the bands live shows has led to them being increasingly in demand: playing at the 2014 Glasgow Commonwealth Games Opening Ceremony; festivals up and down the country; and supporting some of the biggest names in ska, punk and reggae, including Toots and the Maytals, The Skatalites, The Wailers; Bad Manners, The Beat, The Selecter, Neville Staple, The Undertones, Fishbone, The Slackers and The Toasters.
Faintest Idea
What started out as a visceral punk band venting their political angst, Kings Lynn's Faintest Idea have slowly developed their own signature blend of street punk with horns with 2-Tone, ska and reggae influences naturally bleeding through. Their lyrics tackle current global issues such as ecological destruction, the failures of capitalism, the seeming futility of voting and the rising problems with mental health.
DAKKA SKANKS are a band seriously committed to bringing hard reggae, ska, dub and punk rhythms together in a fresh style. The band have a passion and organic togetherness crafted through years of writing and performing with each other. Clara Byrne's mesmerizing lead vocal cuts through like a wave of emotion, her lyrical integrity straight from the soul, with serious social and political issues explored through dramatic delivery. From hard steppers to traditional ska, furious punk and sprinklings of Motown, Dakka Skanks come with the style and always bring the dance.
DEADBEAT AT DAWN are a hard sound to pin down and define. They call it Skapocalyptic - a furious combination of all the genres they love. Mixing 80s horror, action, post apocalyptic and sci-fi strewn lyrics, political discontent, broken hearts, and good time party vibes, DeadBeat at Dawn are the soundtrack to a 1000 skateboard videos. Over a decade of evolving their sound and attitude, playing gigs up and down the country, DEADBEAT AT DAWN are now at their hottest... The Skapocalypse is here...
NUTTY SKUNK are a 7-piece ska punk band from Yorkshire (with a couple of stragglers from further afield). Influenced by bands such as Reel Big Fish, Less Than Jake, Capdown, Mad Caddies and Snuff.
The band emerged in the year 2000, and have maintained their ferocious levels of horn driven, heavy, bouncy ska and punk for 20 years. The band tackles topics such as growing up, mental health, skateboarding, politics, zombies and dying music scenes.