A Right Royale Tea - comedy dining experience
Amba Hotel Charing Cross, London.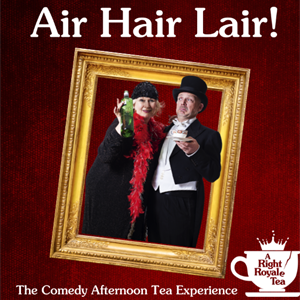 8s - 12s must be accompanied by an adult. No refunds will be given for incorrectly booked tickets.
More information about A Right Royale Tea - comedy dining experience tickets
Air Hair Lair!!
Welcome to A Right Royale Tea, the first and only Comedy Afternoon Tea Experience.
Watch the video of Lord Marmaduke Right introduce A Right Royale Tea!
Expect unexpected 1920's elegance and a stiff-upper lip during a delightful traditional afternoon tea of scones, sandwiches and cakes in our interactive comedy experience. With a mischievous maid, a boisterous butler and a sumptuous songstress, what could possibly go wrong?!
Afternoon tea, including scones, sandwiches, cake and tea & coffee, is included in the price, and you can even upgrade to a Prosecco package.
A Right Royale Tea is a family-friendly, interactive and immersive comedy theatre and dining experience, where the diners/audience can be part of the show. Actors mingle and interact with the diners, with each actor portraying a character as the story unfolds. Some of the performance is improvised, drawing from topical events and audience participation.
Performing at the Amba Hotel Charing Cross, London on Sundays throughout the Summer. For this performance, the Lady will be played by Elizabeth Hill, whose credits include Downton Abbey, the West End production of Harry Potter and the Cursed Child and the Olivier Award-Winning Sunday Afternoon.
Places are limited so book your tickets now!
"Very entertaining afternoon spent in the company of Lord and Lady Right. The high level of banter, family jokes and well-placed humour raises laughs from the tea drinking guests."London Theatre Review
"A refreshingly old fashioned show and it is a nice summer treat for all ages. It has a lot of heart" View from the cheap seats (theatre blogger)
"A hilarious romp. It's a most enjoyable Sunday afternoon outing." Jewish Weekly
"An exciting new dining experience that brightens any cream tea"Ron Martin, theatre producer and agent
"We were looking for something different to do, and this didn't disappoint! Funny, entertaining, and plenty of tasty food. The plot twist was amazing! Recommend. We went as a couple and that was great but definitely good for families too."Gareth Wilson, Facebook
"Thoroughly enjoyable afternoon and a must see! The experience was fabulous and the cake was good too!"
Kim Waring, Facebook
"Fantastic immersive theatre experience. Lots of laughs, brilliant storyline and fun audience involvement whilst enjoying a delicious afternoon tea. A first time attending such a novel concept for us but we both thoroughly enjoyed it and can't recommend it enough."Louise Northbrooke, Facebook
Hear from script consultant Andrew Muir (The National Theatre, Dante or Die) talk about A Right Royale Tea
See more images in our gallery
Please inform us of any allergies or dietary requirements, or if you are celebrating a special occassion, by emailing AirHairLair@ARightRoyaleTea.co.uk, quoting your booking reference.