Alabama 3 Exeter 2023 Tickets
Exeter Phoenix, Exeter.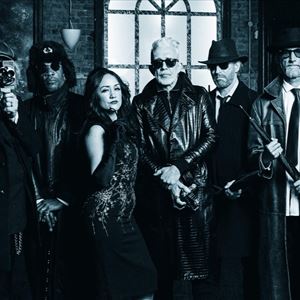 ALABAMA 3 ANNOUNCE UK TOUR & NEW ALBUM "COLD WAR CLASSICS VOL. 2"
To celebrate the release of Cold War Classics Vol.2, Alabama 3 will also be embarking on a UK tour, bringing their electrifying live performances to fans across the country.


This event is for 16 and over - No refunds will be issued for under 16s.
More information about Alabama 3 Exeter 2023 tickets
Alabama 3, the legendary acid house country band from Brixton, are back with their highly anticipated 14th studio album, "Cold War Classics Vol.2", set to be released on Submarine Cat Records this September. Produced by Danton Supple, known for his work with Coldplay and Spandau Ballet, the album promises to take fans on a musical journey back in time to the era of mutually assured destruction and pre-glasnost paranoia.
Lead singer Larry Love describes the album as a trip to "that warm place in your mind where spying on your neighbour was de rigueur and fall out shelter ballads and Checkpoint Charlie funk ruled the airwaves." Cold War Classics Vol.2 is a testament to Alabama 3's unique and innovative musical style that has captivated audiences for years.
Best known for their hit song 'Woke Up This Morning,' which served as the iconic theme song for the acclaimed TV show The Sopranos, Alabama 3 has earned a dedicated fanbase and a reputation for pushing the boundaries of music genres. With their latest album, the band are set to continue their musical legacy and captivate audiences once again.