Albie Donnelly's SUPERCHARGE with Zoot Money
Studio2 Parr Street, Liverpool.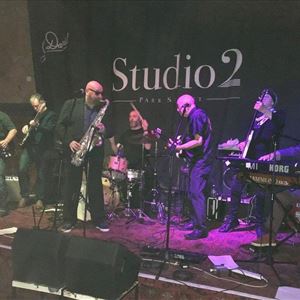 More information about Albie Donnelly's SUPERCHARGE with Zoot Money tickets
Quote from B. B. King: "SUPERCHARGE is Europe's finest Rhythm 'n' Blues Band."
Presenting the legendary Liverpool RnB act SUPERCHARGE with support from the the big time operator himself ZOOT MONEY! Don't miss out on this amazing opportunity to see 2 legendary acts on the same bill. In addition to performing as the support act Zoot will be joining SUPERCHARGE on stage for their headline performance. Plus DJ's spinning records after the show til late.

ALBIE DONNELLY, Liverpool- born singer/saxophonist and bandleader began his career in London as a session musician playing on recordings by Bob Geldof and the Boomtown Rats, Graham Parker and many others.
In 1973 he formed the now legendary band SUPERCHARGE. The band's blend of R. 'n' B. and Funk plus their wild on- (and off!) stage-show made them a sensation on the British 70's live- club scene.
In the 80's the band signed with Virgin Records and toured extensively in GB and all over Europe with such names as Ray Charles, Fats Domino, B. B. King, Chuck Berry and Queen – culminating in the Hyde Park concert in front of more than 100,000 people.
From then on ALBIE has led successful tours all over Europe (Germany, Netherlands, Spain, Portugal, France, Poland, Italy, Austria, Switzerland, Denmark, Sweden, Finland) and recently back home again in GB, confirming the bandleaders consistent popularity.
His soulful voice and unique horn-sound attest to his R. 'n' B. roots and his being steeped in the music of the all-time greats

ZOOT MONEY
George Bruno "Zoot" Money is an English vocalist, keyboardist and bandleader. He is best known for his playing of the Hammond organ and association with his Big Roll Band. Inspired by Jerry Lee Lewis and Ray Charles, he was drawn to rock and roll music and became a leading light in the vibrant music scene of Bournemouth and Soho during the 1960s. He took his stage name 'Zoot' from Zoot Sims after seeing him in concert.[1]
Zoot Money has been associated with The Animals, Eric Burdon, Steve Marriott, Kevin Coyne, Kevin Ayers, Humble Pie, Alexis Korner, Snowy White, Mick Taylor, Spencer Davis & more.
Zoot will play a support slot before joining supercharge for their set.