Alejandro Sanz
Kobetamendi, Bilbao, Vizcaya.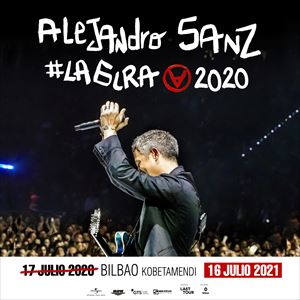 EL CONCIERTO DE #LA GIRA DE ALEJANDRO SANZ EN BILBAO CAMBIA DE FECHA AL 16 DE JULIO DE 2021
Debido a la situación de emergencia nacional sanitaria provocada por la Covid-19, y a la nueva normativa para espectáculos dictada por las autoridades competentes, la fecha del concierto que tenía previsto llevarse a cabo el 17 de julio de 2020 se aplaza al 16 de julio de 2021. La prioridad máxima de Last Tour, Alejandro Sanz y su equipo, es preservar la salud de los asistentes al concierto y de las personas que participan en el desarrollo del mismo, así como velar por el bienestar general, respetando las medidas adoptadas por el Ministerio de Sanidad. Las entradas adquiridas a través de los puntos de venta oficiales serán válidas para la nueva fecha, sin necesidad de realizar ningún trámite adicional. Cualquier otra gestión relacionada con las entradas se informará a los compradores a través de un correo electrónico. La venta de entradas se mantiene con normalidad. Agradecemos la comprensión y apoyo que nos habéis trasladado en estas últimas semanas ante estos momentos de incertidumbre y estamos seguros de que el reencuentro va a ser mejor.
Under 18s must be accompanied by an adult. We cannot issue refunds to under 18s who are not accompanied by an adult.