Alexander Carson + Sky Coloured Tickets
The Waiting Room, London.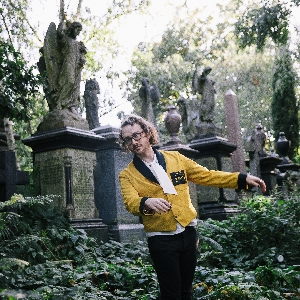 This event is for 18 and over - No refunds will be issued for under 18s.
More information about Alexander Carson + Sky Coloured tickets
Alexander Carson is a non-binary singer-songwriter/composer based in rural North Norfolk, United Kingdom, who spends the majority of their time bumbling around a remote cottage in the woods making obtuse sounds, comforted and accompanied by two ambivalent cats, one over-excited dog, and one long-suffering partner. Carson first picked up the piano at age 4 (which is especially difficult considering the weight) and was classically trained, their music reflects this discipline, and despite its simple-sounding structure, certain portions of their work are unplayable by most musicians owing to the concealed complexity. Carson is inspired by the mundanity of modernity and aims to articulate the absurdity of human existence in their music. This is all presented with a surrealist sense of humour to soften the often melancholic timbre of the music. Essentially their music is trying to set one Oscar Wilde quote to music: "Life is much too important a thing ever to talk seriously about"
****
Sky Coloured
A rich sense of sonics, with those jazz flourishes building into something beautiful, but abstract.
— Clash
Sky Coloured is a fascinating new addition to the London alternative pop scene. Led by singer and songwriter Anthony T Jackson?, the act released a 6-track EP, ?in the small hours?, in 2018, featuring a roster of talented London musicians, including jazz trumpeter Emma-Jean Thackray and bassist ?Matt Gedrych?. The record merges a classical sensibility with jazz harmony and a pointed, melancholy lyricism that's attracted praise from the likes of ?Clash and ?The? ?Quietus?.
They followed this up with two atmospheric covers released for Mental Health Awareness Week 2019: John Martyn's 'Solid Air' and Nick Drake's 'Pink Moon', in association with the Mental Health Foundation, and unveiled a new synth-driven single 'Desire', in December 2019. They will be on tour in the UK with Mock Deer in March and April 2020.
****
Tom Adams
5 years on from his acclaimed debut songwriting album 'Silence', Tom Adams returns with a new full length record called 'Beside The Analogue Sea'. The album is about the idea of home and is the result of an ongoing process of learning to trust the heart in all things. Tom says "these songs an I have travelled to dusty campsites in Kenya, explored lonely mountain valleys in Nepal, got lost on Scottish hillsides in winter and enjoyed sun kissed evenings with good friends in Berlin. One day we found ourselves on the wild and beautiful coast of Cornwall, where it felt like a good idea to stay for a while."

The result of this well travelled creative process is a beautiful and atmospheric collection of songs that take the listener on a journey deep into the heart of life.
'This poignant, atmospheric music seems to slow time... If you're looking for a quiet record for these harrowing times, this is it.'-
Bob Boilen, (NPR)
'Just beautiful' -Mary Anne Hobbs (BBC 6Music)