ALIBI EP LAUNCH, RATS + SUPPORT
Blackmarket VIP, Hastings.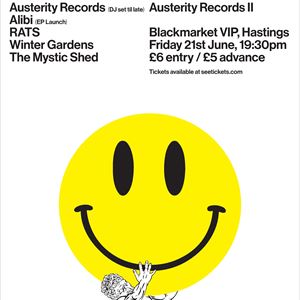 Under 14s must be accompanied by an adult. We cannot issue refunds to under 14s who are not accompanied by an adult.
More information about ALIBI EP LAUNCH, RATS + SUPPORT tickets
After the success of the austerity records launch in February we bring you the second event of the year.
Once again bringing four live performances and a DJ set until late.
Local favourites, The Mystic Shed, are an energetic heavy psych rock duo from Hastings.
In 2015 a beanpole and a chest of drawers decided to form a band, and went about sounding like utter drivel and donning dodgy haircuts. After a horrific performance at a summer fayre, the duo pulled their socks up, let their hair down, and wazzed out some ear plugs to turn it up to eleven.
After the success of their debut single WG have secured some impressive support slots as well as defining their captivating set. Taking influence from 80's post-punk, Factory, Postcard, 4AD, Creation era bands, they have developed their own 'dream punk' sound, all the ethereal haze of shoegaze and dreampop with the energy of punk. Winter Gardens have managed to secure support slots for The Waves Pictues, Modern English, Say Sue Me, Magic Wands, Charles Howl and opened this year's Rockaway headlined by Gary Numan and Echo & The Bunnymen.
A blast of direct and anthemic indie that's as infectious as it is heartfelt, the sound of RATS has already seen them burst out of their native hometown Liverpool, with their sizeable ambition lining up the rest of the world in their sights.
The full breadth and power of RATS becomes even more evident when on stage, where they've been hailed by fans and critics alike for sounding record-perfect in the live arena, but with a spine-tingling and raw delivery.
With their debut single Weekend gaining over 120,000 streams on Spotify in under two months, it's clear RATS don't do things by half measures and now they're well and truly in it for the long-game.
Maxi Williams (lead vocals/guitar), Matt Edwards (lead guitar/vocals), Benji Meacham (bass/vocals) & Wesley Brown (drums) state their influences among The Black Keys, The Libertines, Spring King and The Smiths. Their tight vocals and strong stage presence further expectations as they continue to gain momentum, and as well as a progression in sound, Alibi have recently taken their first steps from locally filmed music videos on the beaches of Hastings and Bexhill to professionally filmed, in-­studio videos -­ beginning with their new video for "Space, Man".
With their biting guitar-­riffs and boyish charm, Alibi welcome a vast and mixed audience. They have proven to be a secret that Hastings cannot conceal, and thus emerged willing and ready to get you off your feet.
AUSTERITY RECORDS DJ SET -
Expect to hear Northern Soul, Early Warp Records, Acid House, 80's/90's Indie (4AD, Creation, Factory) New Wave, Punk, a splash of twee and 90's hip-hop.
We will be collecting for the charity 'Heads On' - A Sussex Partnership NHS Foundation Trust's Charity. Heads On help people with mental health problems to feel supported, be active and be hopeful.