ALICE IN THE WONDERBOX
Théâtre Victor Hugo, Bagneux.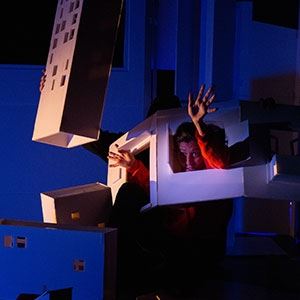 More information about ALICE IN THE WONDERBOX tickets
C'est le propre des grands personnages que d'échapper à leurs créateurs et à leur époque ; c'est un fait qu'aujourd'hui tout le monde a une Alice parmi ses connaissances et le « Wonderland » de Lewis Carroll résonne fortement dans la société virtuelle d'aujourd'hui : les avatars, les fausses identités, les fake news, le prince charmant, le harcèlement…
Tout y est ! Encore plus mouvant et instable et sans doute beaucoup moins magique ! La Alice que nous propose la Cie Mangano-Massip est une addict d'internet ; son voyage initiatique rencontre la réalité augmentée, le transhumanisme ou l'intelligence artificielle. Spectacle sans paroles, Alice in the wonderbox s'est construit autour de la parole des jeunes qui sont nés dans l'ère du numérique, à travers rencontres, discussions et interviews.
Entre théâtre gestuel et masques - réels ou virtuels – marionnette et arts numériques, dans la grâce du geste et dans le trouble des sensations, on suit Alice dans sa recherche d'identité… De son humanité ?
Durée :1h / Dès 7 ans