Alice in Wonderland - Ripon Spa Gardens Tickets
Ripon Spa Gardens, Ripon.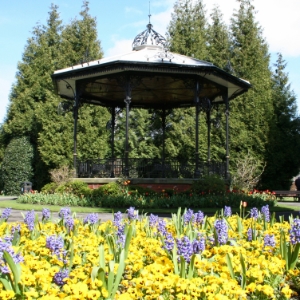 Spa Gardens is a beautiful park right in the heart of Ripon with a splendid Victorian bandstand at its centre. Lewis Carroll spent time as a choirboy at Ripon Cathedral and is said to have been inspired to create the characters from Alice's Adventures in Wonderland by the cathedral's animal carvings.
The gardens now contain a series of tree sculptures depicting characters such as Alice, Mad Hatter and the White Rabbit, providing the perfect backdrop for the show which starts at 4.00pm (gates open 3.00pm).
Please bring your own picnic blankets or low-backed seating to enjoy the show. The main entrance is next to the swimming baths on Park Street, Ripon, HG4 2AX is easily accessible by wheelchairs. There are disabled toilets in the gardens. There is limited on-street parking in Church Lane alongside Spa Park.
Generally all tickets are non-refundable and in the event of cancellation due to bad weather alternative arrangements shall be made.
More information about Alice in Wonderland - Ripon Spa Gardens tickets
Take a trip down the rabbit hole this summer as Chapterhouse Theatre Company present this brand new production of Alice's Adventures in Wonderland. Join Alice as she stumbles into the magical world of wonderland and meet a whole host of colourful characters. From the unforgettable White Rabbit and the madcap Mad Hatter to the terrifying Queen of Hearts, Alice's journey couldn't be filled with more mystery and adventure in a show alive with song, dance and original music.
Children old and young alike are invited to come in their favourite Wonderland costumes and join in a Wonderland Parade during the show.