Ana da Silva & Phew
St Pancras Old Church, London.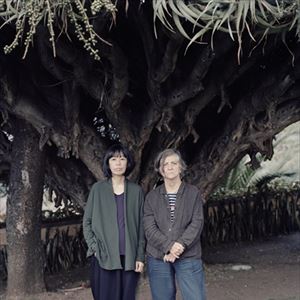 More information about Ana da Silva & Phew tickets
ANA DA SILVA & PHEW have a new collaborative album entitled Island, full of absorbing textures, tactile beats, and a masterfully dynamic compositional style. Each cavernous track feels like a conversation, and out of the ominous dark comes a generative hope. Ana and Phew contribute pointillist bits of spoken word in each other's native tongues of Portuguese and Japanese, reflecting on isolation, friendship, and nature. The quotidian is made profound. A gripping mood is set by the shared stoicism and subtle playfulness of these two cult punk icons. Island's logic is one of wise minimalism. There is a feeling of discovery that will be familiar to Raincoats fans—a sense of poetry and inquisitiveness, of intuition and invention, of new languages taking shape.

Ana da Silva is a founding member and songwriter of the pioneering post-punk band The Raincoats. Across four daring full-length records, The Raincoats helped shape the timeless notion that punk is what you make it - an act of raw expression, not any one sound. The Raincoats have offered creative and spiritual inspiration for several generations of artists. They set a crucial precedent for feminist work within a DIY punk context, marked all the while by Ana's poetic lyrical style and innovative noise guitar playing.
After The Raincoats' hiatus in 1984, Ana collaborated with The Go-Betweens, This Heat's Charles Hayward and choreographer/dancer Gaby Agis. Ana returned to song writing and performing with The Raincoats after Kurt Cobain invited them to tour with Nirvana shortly before his untimely death in 1994, and they released an album 'Looking in the Shadows' in 1995 on DGC and Rough Trade. In 2005, Ana released her solo debut, 'The Lighthouse' - a self-recorded collection of spare, elegant experiments in electronic indie-pop. Ana's recent appearances with The Raincoats include a 2016 collaboration with Angel Olsen for Rough Trade's 40th anniversary, as well as a 2017 presentation at The Kitchen, New York of The Raincoats and Friends, a celebration of Jenn Pelly's book The Raincoats.
http://www.anadasilva.net/

Phew consolidated her binary interests as a vocal performer and analogue electronics improviser with the 2017 release of her album 'Voice Hardcore'. Indeed, since her 2013 conversion to analogue electronics Phew has continued evolving her live solo project around the world. In 2015 she released her first almost entirely solo-driven album, aptly titled 'A New World', on the Japanese label Felicity featuring nine songs backed by herself on electronics and drum machine, with contributions from Deerhoof guitarist John Dieterich, and synthesizer / electronics player Hiroyuki Nagashima.

In 1978 Phew started out as the singer in Aunt Sally, the Osaka punk group who released just one outstanding album on Vanity Records. A year later Phew released her debut solo single, produced by Ryuichi Sakamoto. In 1981 she made her debut solo album 'Phew' at legendary producer Conny Plank's studio near Cologne, accompanied by Plank, and Holger Czukay and Jaki Liebezeit. She returned to Conny's studio to make 'Our Likeness' (Mute, 1992) with Jaki Liebezeit, former DAF/Liaisons Dangereuses member Chrislo Haas and Einstürzende Neubauten's Alexander Hacke. And in 2011, she and Erika Kobayashi formed Project UNDARK to record the texts of 'Radium Girls' with music by the late Dieter Moebius, of Cluster. In Japan she has made a series of acclaimed records under her own name and with leading bands such as Novo Tono and her contemporary punk group Most too.
https://phewjapan.bandcamp.com/