Annual Easter Egg Hunt
Mumbles Pier, Swansea.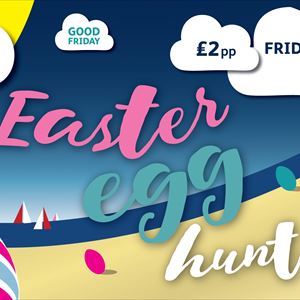 Grab your spade and get hunting! Our Good Friday Easter Egg Hunt is back for the third year!
More information about Annual Easter Egg Hunt tickets
Please make sure you arrive at the time specified on your ticket.
Please note Adults DO NOT need a ticket.
One egg per child.
Join us at Mumbles Pier Beach for the biggest beach hunt in Swansea. Dig as fast you can and uncover the plastic eggs hidden in the sand. Find your coloured egg in sand and exchange it for real chocolate egg.
There will also be other Easter theme games and prizes in the Amusement Arcade and Cafe throughout the Easter week! So make sure to check on our facebook page for more information.
Due to the unprecedented demand of previous years we strongly advise you pre-book your child's ticket to avoid disappointment. Ticket holders will be granted priority access.