Antipole & The Pink Diamond Revue
The Green Door Store, Brighton.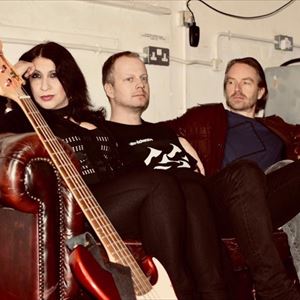 More information about Antipole & The Pink Diamond Revue tickets
ANTIPOLE
Antipole (Norway/UK) is guitar-driven evocative hypnotic post-punk/wave mixed with synths and drum machines.


"Drawing inspiration from classic post punk records of the 1980s, Antipole are able to craft songs that no only nod to the past but also feel timeless in their expression of emotion"
– OVERBLOWN, UK
"The 11 track effort [Radial Glare] is a mesmerizing slow burn of top-shelf contemporary darkwave.» – BLEAK SEASONS, UK
"Antipole – Perfect post punk precision with the dark lost feeling Joy Division could stir with a modern fresh feel and beautiful execution that would make Martin Hannett proud"
– SOUNDS AND SHADOWS, USA
"Antipole has now been established as one of the main representatives of the modern post-punk wave. Sharp, clean guitars, melodic and emotional compositions, vocals and lyrics."
– ELEKTROSPANK FANZINE, GREECE
Antipole is Karl Morten Dahl (Trondheim, Norway), featuring Paris Alexander and
Eirene (Brighton, UK).
Antipole just released their sophmore album "Radial Glare" (CD/LP, Young & Cold Records, October 2019). The album features Paris Alexander, Eirene and Marc Lewis (of The Snake Corps). Their debut album Northern Flux (Unknown Pleasures Records, UPR076) was released late 2017 to critical acclaim. The album is featuring Paris Alexander and Eirene.
In 2018 the band performed at Synth Wave Live in London, Brighton Electric
and W Festival in Belgium.
THE PINK DIAMOND REVUE
"An audio-visual cinematic masterpiece more than just a live band, The Pink Diamond Revue symbolise the spirit of the Vapour Trail with their sexy electro-psychedelia. Fronted by a genuine mannequin. Surreal samples, stuttering guitars and renegade rhythms before hypnotic visuals all collaborate to create a world where Kraftwerk meet sex and you find love."
The Vapour Trail October 2018
The band have played nearly 300 live shows in UK and Europe since forming in 2015
The Pink Diamond Revue are a 3 Piece Electro/ Dance/ Psych band fronted by Acid Dol, a model from another dimension.
The Bands live shows have had many different comparisons but most mention the bands' ability to combine their music with the visual images they display behind them , to produce a show with a massive crossover appeal.