Antipole, The Snake Corps & The Pink Diamond Revue
The Green Door Store, Brighton.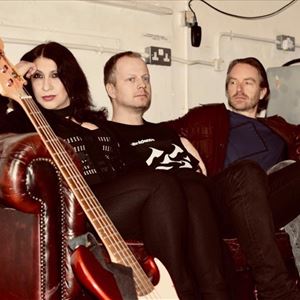 This event is for 18 and over - No refunds will be issued for under 18s.
More information about Antipole, The Snake Corps & The Pink Diamond Revue tickets
ANTIPOLE
Antipole (Norway/UK) :
is guitar-driven evocative hypnotic post-punk/wave mixed with synths and drum machines.


"Drawing inspiration from classic post punk records of the 1980s, Antipole are able to craft songs that no only nod to the past but also feel timeless in their expression of emotion"
– OVERBLOWN, UK
"The 11 track effort [Radial Glare] is a mesmerizing slow burn of top-shelf contemporary darkwave.» – BLEAK SEASONS, UK
"Antipole – Perfect post punk precision with the dark lost feeling Joy Division could stir with a modern fresh feel and beautiful execution that would make Martin Hannett proud"
– SOUNDS AND SHADOWS, USA
"Antipole has now been established as one of the main representatives of the modern post-punk wave. Sharp, clean guitars, melodic and emotional compositions, vocals and lyrics."
– ELEKTROSPANK FANZINE, GREECE
Antipole just released their sophmore album "Radial Glare" (CD/LP, Young & Cold Records, October 2019). The album features Paris Alexander, Eirene and Marc Lewis (of The Snake Corps). Their debut album Northern Flux (Unknown Pleasures Records, UPR076) was released late 2017 to critical acclaim. The album is featuring Paris Alexander and Eirene.
In 2018 the band performed at Synth Wave Live in London, Brighton Electric
and W Festival in Belgium.
The Snake Corps:
is a post-punk , indie band , with dynamic vocals over an epic guitar soundscape -they create dreamy rock anthems and iconic gothic verses. The band came together in 1984 following a break-up of Sad Lovers & Giants (SL&G)- Tristan Garel-Funk and Nigel Pollard recruited Marc Lewis on vocals and Liam McGuinness on bass - this original incarnation set about establishing its own identity - recording demos of songs later to appear on the band's albums. After some initial success building a following and reconnecting with many of the fans of SL&G, Nigel left the band and was replaced by Jon Greville from the extreme hardcore three-piece Rudimentary Peni. This line up recorded the first album: Flesh on Flesh, released on Midnight Music Records in 1984. Tours in Europe helped to build and consolidate the band's following, but despite being championed by the legendary DJ John Peel in the UK the story was largely one of press and radio indifference. Feeling a need to broaden the scope of the music the band decided to add keyboards, this resulted in the return of SL&G founder member David Wood with the addition of Jim Blanchard (TGF's brother) from label-mates the S-Haters now on bass guitar, this line-up recorded the band's second album Smother Earth. Ian Gibson (recently having left the Mk2 version of SL&G) replaced Dave Woods on keyboards and free from their contract with Midnight Music but with their commitment to release the next album on there own Label, this line-up recorded (at their own expense) The 3rd Cup at Midnight-owned Berry Street Studios many consider this to be the Snake Corps finest work. But behind the scenes all was not well, Midnight Music was bought up by Cherry Red Records - Who released a best off compilation album ,'Spice' in 93. Thankfully, the band owned the recordings of their new album , The 3rd Cup and finally released a CD though a distribution label in 1995 , In 2010 Marc & Liam reformed the band, later joined by Jim on Bass and played with SL&G in Barcelona, the gig was a huge success more gigs in Berlin, Madrid and Valencia followed. The also played with the Chameleons at the 02 academy in Islington 2012 and again put on a wonderful performance, helped by their dynamic and acclaimed new session drummer Dave Vigay. The band played to a sell out audience in Tarragona, Spain, in November 2015 . Berlin and Salerno in Italy were the dates in 2016 - this was also this year that they released the EP the 'Ocean Calls, They toured again In Italy, Spain and the UK in 2017. again with the Chameleons Vox - They then headlined at the Gotham Music Fest in on Germany in 2018 and again played to sell out audiences in Spain. In November 18 they were invited to play in Turin at the 10th Anniversary of Dark Italia - In 2019 they released a new Single 'She'll rise' and played in Valencia and Tarragona. More releases and gigs are planned for 2020 .
The Pink Diamond Revue :
Are a 3 Piece Electro/ Dance/ Psych band fronted by Acid Dol, a model from another dimension.
''An audio-visual cinematic masterpiece more than just a live band, The Pink Diamond Revue symbolise the spirit of the Vapour Trail with their sexy electro-psychedelia. Fronted by a genuine mannequin. Surreal samples, stuttering guitars and renegade rhythms before hypnotic visuals all collaborate to create a world where Kraftwerk meet sex and you find love.''
The Vapour Trail October 2018
The band have played nearly 300 live shows in UK and Europe since forming in 2015
The Pink Diamond Revue are a 3 Piece Electro/ Dance/ Psych band fronted by Acid Dol, a model from another dimension.