Ariel Sharratt & Mathias Kom (Of The Burning Hell)
Moth Club, London.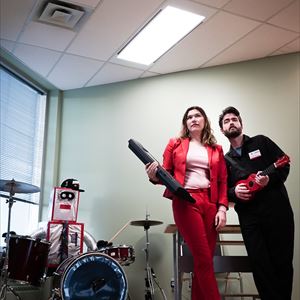 More information about Ariel Sharratt & Mathias Kom (Of The Burning Hell) tickets
Ariel Sharratt & Mathias Kom (of The Burning Hell): "Never Work"
Work is changing. Robots are replacing us. Capitalism is fracturing. We need a new soundtrack—but what do labour songs sound like when the nature of labour itself is so uncertain? With their second duo album Never Work, Ariel Sharratt and Mathias Kom (of Canadian garage-folk band The Burning Hell) search for answers. Accenting acoustic sounds of old-school folk revivals with electronic interference, Never Work explores the gig economy, side-hustles, tech feudalism, class war, unionized digital assistants, rebellious self-service checkout machines, and fully automated luxury communism. Simultaneously earnest and wry, the songs on Never Work are a protest playlist for our collective journey towards oblivion or the beach—or both.
Paper Beat Scissors
Paper Beat Scissors is the project of Montreal, Canada's dislocated-Brit Tim Crabtree. Labelled "Stunning" by the BBC's "Whispering" Bob Harris, the finger-picked guitar and intricate arrangements all serve to support a voice that enchants and "freezes time" (Folk Radio UK). Over the last 10 years, Crabtree has shared the stage with the likes of Martha Wainwright, Sun Kil Moon, Dan Mangan and Tanya Tagaq. In the studio Crabtree has worked with members of Arcade Fire and the new album "Parallel Line" was mixed by Beck engineer Dean Nelson alongside Sandro Perri.