Armistice Day - End of World War 1
Robin 2, Wolverhampton.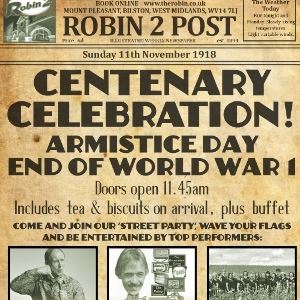 The Rotary Club of Bilston & W-ton West presents Centenary Celebration
More information about Armistice Day - End of World War 1 tickets
Free Admission - All that wish to attend MUST have a ticket (through box office 01902 401211). Customers who don't have a ticket may be refused admission.
Featuring: Doug Parker (Comedian) + Bruce Thompson (One Man Band) + Cosford Military Wives Choir
Doors open 11.45pm - ticket includes tea & biscuits on arrival, plus buffet
Please join us for an end of World War 1 Centenary Celebration in the Robin 2, which will be laid out 'street party style' with authentic World War 1 table and room decorations, tea and biscuits on arrival, some great live entertainment and a buffet is included.
A great afternoon celebration guaranteed – all ages welcome!
Money raised on this occasion is for the 'Royal British Legion'