Babajack
Robin 2, Wolverhampton.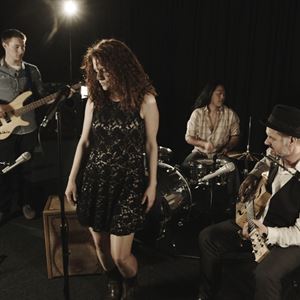 No under 114s in the standing area, 14 - 18s must be accompanied by an adult. No refunds will be given for incorrectly booked tickets.
More information about Babajack tickets
+ support
BABAJACK is coming to the Robin2 on May 2nd to showcase new material for their upcoming studio album. The BIG EVENT will be recorded live and you will see the new line up BABAJACK as never before. Come and be part of the birth of a new album!
BABAJACK has more than proved its worth on the UK and European touring and festival circuits over the past 6 years. Their unique take on the blues/ roots/ rock combined with great musicianship, passion and energy makes for a scintillating show.
This band has never failed to impress: Becky Tate is four times winner of Instrumentalist of the Year at the British Blues Awards; she has been made Honorary Member of the UK Blues Federation; BabaJack represented the UK and was a finalist in the 3rd European Blues Challenge; they were BluesMatters Magazine Band of the Year; they won coveted support slots with legends such as Status Quo, Family and Focus…
Their release RUNNING MAN set them at the very top of their field. Launched at the end of 2013 Running Man earned a well deserved place in the Top Ten Albums of the Year in not only CLASSIC ROCK but also in CLASSIC ROCK BLUES and GUITAR & BASS magazines.
They followed this with BabaJack LIVE – recorded originally at the Royal Albert Hall by BBC Producer Paul Long (Paul Jones Blues Show Radio BBC 2). 'Free Form Blues Fest, packed with imagination' Classic Rock Blues Magazine 'BabaJack at their very best' Blues in Britain
And at the end of 2017 they released a limited edition EP -BabaJack DEPARTURE –which marks the beginning of a new body of work, and introduces guitarist Troy Redfern.
What sets BabaJack apart from others is their approach to their music: it is recognisably infused with blues but is in no way bound by that. Becky Tate brings roots/funk/African rhythms to the band's sound along with her beautiful lyrical vocals. Troy brings extraordinary musicianship, his very distinctive slide guitar style and rich vocals . Tosh Murase on drums and Adam Bertenshaw on bass provide the driving rhythms that give BabaJack it's distinctive groove. They approach their music as a true band of equals and with no genre limitations.
With BabaJack, you are in for a unique blend of explosive tribal blues, great musicianship, passion and energy and a show you won't soon forget.