Backwoods Creek & Anna Renae | Live at The Star
The Star Inn, Guildford.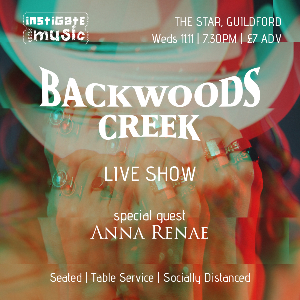 We are really excited to be back ! Team Star will be carrying on with their amazing service to make sure you are welcomed and looked after.
Seated | Socially Distanced | Table Service
LIVE SHOW
Showing no signs of slowing down in 2020...
"These guys are f*****g badass man, BADASS". - Lewis Brice Heartland, Country, Rock 'n' Roll? Call them whatever you want. From the heart of London town, Backwoods Creek bring something to the table most choose to shy away from. Unashamedly ready to make you sing, laugh and cry, this quintet are picking up the broken pieces of the world and putting them back together, one show at a time. Playing multiple sold out shows and festivals (such as AEG's Country2Country and Manchester's own Buckle & Boots Festival) whilst also receiving countless nominations at various UK award shows - going on to win the BCMA "Video of the Year" award for their single - 'When I Grow up'. Singles, 'Coulda Been You' & 'On the Line', both of which were well received and featured regularly on BBC radio and Country Hits radio.
Building on this success, the latest releases further establishes the band in the country rock scene, with their standout harder hitting sound. Quoted as being reminiscent of Zac Brown Band, Eagles and maybe just a hint of The Allman Brothers Band, Backwoods Creek are proving that you can be an authentic country rock outfit while being from the other side of the pond.
www.backwoodscreek.co.uk/betterdays Become a #CreekHead today!
With support from
Anna Renae is a pop/folk singer-songwriter, weaving musical stories inspired by life's complexities. Her debut album 'Skin' was released in March 2020, which has received wonderful reviews, has gained acclaim in songwriting contests, and has attained radio play around the world, including multiple plays on BBC Introducing. 'Skin' is available on all major platforms, and CDs can be purchased from the online store at www.annarenaemusic.com.
More information about Backwoods Creek & Anna Renae | Live at The Star tickets
The event will be seated, and a table service will be in operation.
If you are coming as a group - please book together or drop us an email at Instigatemusic@gmail.com so we can seat you together - maximum is 6 to a group.
Please read below for more event info:
Pre-Event:
Seek advice from and collaborate with local authorities and public health officials for current COVID-19 restrictions and recommendations and weave them into our event safety policy and procedure.
Require staff and event-goers to stay home if they have any COVID-19 symptoms, including fever, cough or gastro-intestinal issues. Additionally, require attendees to not attend the event if they have been diagnosed with COVID-19, or had direct contact with an individual diagnosed with or suspected to have COVID-19 in the past 14 days.
Track and Trace information collected at point of booking and reaffirmed on entry to venue. Tickets are limited to 6 per group and they will be pre-allocated tables.
During Event:
Provide access to hand sanitiser containing at least 60% alcohol at the entrance.
Masks to be worn when attendees are moving around the venue and attached pub area.
Modify attendee/staff density to enforce all safety protocols, including two-metre physical distancing in areas where attendees congregate — including lavatories, queuing areas, and during ingress and egress procedures. Deliverable by stewards, signage and code of conduct.
Arrival
Attendees will be accessing the venue by the front entrance off Quarry Street. They will then enter The Back Room and be guided to their pre-booked table.
During
The bar is closed as The Star are operating a table service. Attendees are encouraged to be mindful of other guests when moving to visit the facilties.
No late admittance
After Event:
Venue sweep for litter - collect and remove.
If an event-goer displayed symptoms at the event, communicate potential exposure to public health officials, staff, and event-goers.
Retain track and trace information inline with government recommendations.