Bananagun Tickets
Cluny2, Newcastle.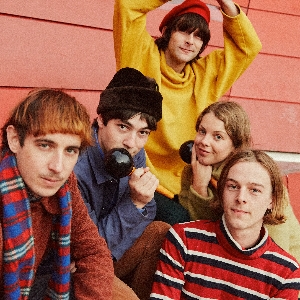 This event is for 18 and over - No refunds will be issued for under 18s.
More information about Bananagun tickets
• More wows from Wandering Oak here •
Hailing from Melbourne, but with a sound stretching from 60s and 70s afrobeat and exotica to Fela Kuti-esque repetition, the proto-garage rhythmic fury of The Monks and the grooves of Os Mutantes, there's an enticing lost world exoticism to the music of Bananagun. It's the sort of stuff that could've come from a dusty record crate of hidden gems; yet as the punchy, colourfully vibrant pair of singles Do Yeah and Out of Reach have proven over the past 12 months, the band are no revivalists. On debut album The True Story of Bananagun, they make a giant leap forward with their outward-looking blend of global tropicalia.
Bananagun are first and foremost a band enthused with the joy of living and The True Story of Bananagun is a ebullient listen; Nick Van Bakel - as the main songwriter - is keen not to let any lyrical themes overpower that. There's more to this record than blissed out grooves and tripped out fuzz though: The Master is about learning to be your own master and resisting the urge to compare yourself to others; She Now addresses gender identity and extolls the importance of people being able to identify how they feel. Then there's closing track Taking The Present For Granted, which perhaps sums up the band's ethos on life, trying to take in the world around you and appreciating the here and now.
Even the band's seemingly innocuous name has an underlying message of connectivity that matches the universality of the music. "It's like non-violent combat! Or the guy who does a stick up, but it's just a banana, not a gun, and he tells the authorities not to take themselves too seriously."