Band of Friends
Oran Mor, Glasgow.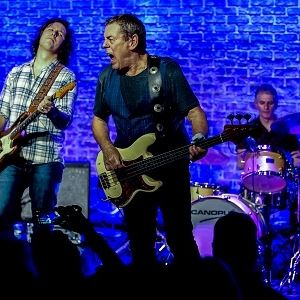 pmmusic.co.uk presents ...
This event is for 14 and over - No refunds will be issued for under 14s.
More information about Band of Friends tickets
BAND OF FRIENDS
In memory of Rory Gallagher on the 25th Anniversary (1948-1995)
A celebration of the music of Rory Gallagher
Not just the notes – but the sound, energy and feel of Rory Gallagher, delivered by people who helped define it… Brendan O'Neill on drums (10 years with Rory), Gerry McAvoy on Bass (over 20 years with Rory) and Davy Knowles on Guitar.
The band have gone from strength to strength having now toured most of Europe, and their first tour of the US was in April 2018, playing to sell out venues which led to a return to the US later in 2018 and twice in 2019.
With 3 CD's under their belt, they hope to release a best of CD in 2020. The CD's "Too much is not enough" "Live n kickin" "Repeat after me" are available on the online shop at www.bandoffriends.eu
Along with their music awards, Gerry McAvoy was awarded the freedom of Belfast by the city council as well as Winners of European Blues Awards "Band of The Year" in 2013 and boasting rave reviews from every show, it's clear to see why the band continues to be so popular.
In the era of tribute acts who deliver note-perfect renditions of their heroes' catalogues, the Band of Friends is something different. They can do the notes played by electric blues icon Rory Gallagher. But they can also do the sound, energy and feel – because the band includes people who helped define those essential elements.
"These guys are no backing musicians. They were part of an integral unit that allowed the maestro to present his prodigious talent. Plenty of body language was what I remember. Little nods here, smiles there and just enough ad lib without over milking the solo breaks. The tradition continues with Marcel." - Noel Buckley
PRESS QUOTES
"Really has the atmosphere of a Rory concert" – Lust for Life
"This is not a tribute band but a group of its own. The trio work wonders." – Rock & Folk
"Sparks fly from the first note. The Band of Friends is pure cracker." – Blues focus
"The pleasure flies in your face – one cannot get enough" - Voor
"A sturdy pot of blues-rock – they impressed, and not only me" - Bluesbreaker
"Emotional highlight... a fantastic interpretation" - RockBlogBlues
"In the music industry it's hard to find something this well done. Priceless." Miusyk.com
"Like no other power trio, they celebrate the amiable guitar hero's passion on stage" - The Blues Alone