Band Of Friends
Robin 2, Wolverhampton.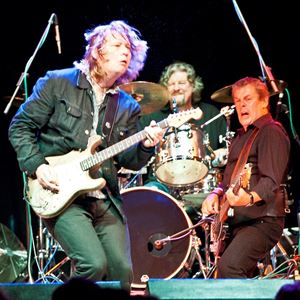 No under 14s in the standing area, 14 - 17s must be accompanied by an adult. No refunds will be given for incorrectly booked tickets.
More information about Band Of Friends tickets
+ support
The Band consists of musicians who played with Rory throughout his career
GERRY McAVOY (Bass Guitar) played with Rory for 20 years; from 1971 to 1991 and because of this has a great insight into the man and his music. Gerry played on every album Rory ever made. He also wrote a book following his career, which was published in 2005. "Riding Shotgun" "On The Road" its German title.
www.ridingshotgun.co.uk
(Deep Joy/Champion Jack Dupree/Rory Gallagher Band/Nine Below Zero)
TED McKENNA (Drums) played with Rory from 1977 to 1981. Ted is a rock drummer's drummer. He has played with numerous rock legends and has recorded some of the top albums of our time.
(Teargas/The Sensational Alex Harvey Band/Rory Gallagher Band/Greg Lake/Gary Moore/Michael Schenker Band)
MARCEL SCHERPENZEEL (Guitar) grew up with Rory's music and Gerry is quoted as saying "This is the closest guitarist to Rory you will ever hear"
(Wolfpin)
So as you can see this is not a tribute. This is the BAND
Rory's music reached a massive audience from Norway to Spain, from Japan to the USA. Covering all parts of the globe and producing some of the greatest Rock/blues albums of the 60's, 70's and the 80's.
Sadly we lost Rory on Jun 14th 1995, to his devoted fans and followers, this was the ultimate tragedy.
The Band Of Friends is not a tribute to Rory, more of a celebration of his life and music
http://www.youtube.com/watch?v=wN7p6KxqKtQ