Baskery Tickets
The Jericho Tavern, Oxford.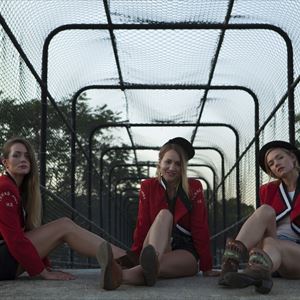 This event is for 18 and over - No refunds will be issued for under 18s.
More information about Baskery tickets
The three sisters can't recall when or why they started playing, the music's always just been there. In their late teens, the sisters joined forces with their dad, who for decades was a one-man band playing old blues and country tunes for a living. This foundation of classic "roots music and Americana" settled in their hearts, but also awoke the urge of breaking the rules of traditional music. Baskery is a band built on what three people can do together and it's all about turning the music on its head, blending the straightforwardness of punk with the subtlety of singer/ song writing.
They have released a number of albums over the years. Their first "Fall Among Thieves" (2008) was recorded in Stockholm, with "New Friends" (2011) the follow up, which the band referred to as the "gypsy album" since it was mainly tracked on the road in various hotel rooms and band apartments, then mixed in Berlin by Blackpete (Depeche Mode, Joe Jackson, Peter Fox). As a contrast to the first two albums, which took several months to make, the third one "Little Wild Life" (2013) was recorded during ten days in an old dance studio converted to a studio in former East Berlin.
Later releases in combination with relentless touring have given the band a reputation as one of the music scene's most noticeable live acts Since the very beginning of Baskery the sisters have guarded theirindependence but when approached by Dan McCarroll (President and A&R) at Warner Music, they felt intrigued to break their indie tradition and make their next record on a major label. In August 2014 they signed a worldwide recording deal with Warner Bros Music (Los Angeles). Baskery is one of few Swedish acts to get signed directly to a US major
The recordings the made under the term came out as a full length album "Coyote & Sirens" in October 2018, produced and engineered by Andrew Dawson (Kanye West, Rolling Stones,) In 2015 the sisters were invited to join legendary artist Robbie Williams as opener and special guests on his arena-tour throughout Europe. Later the same year they also toured the US with Gary Clark Jr and Brandi Carlisle 2017 and 2018 were both equally busy with multiple international tours,