BBC History Magazine's Kings & Queens Weekend
St Anne's College, Oxford.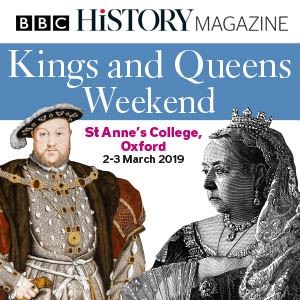 Some or all of the items for this event require you to enter a promotional code.
Promotional/registration tickets are currently unavailable.
If you subscribe to BBC History Magazine, you can get a reduced ticket price, or buy a full weekend ticket, by entering your subscriber number in the box above.
Discover the fascinating history of some of Britain's most intriguing monarchs over two days of talks from expert historians. Each day includes lectures (six on Saturday, five on Sunday), speaker book signings, a buffet lunch and refreshments. Among the confirmed speakers are Tom Holland (Æthelstan), Robert Hutchinson (Henry VIII) and Catherine Hanley (Empress Matilda).