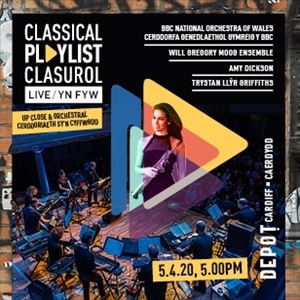 More information about BBC Now tickets
Synthesizers, selfies and symphonies: this is a classical music concert that breaks all the rules!

Join the BBC National Orchestra of Wales for an up close and orchestral music experience like no other. Performing alongside the orchestra will be The Will Gregory Moog Ensemble - a nine-piece ensemble of analogue synthesizers - led by the writing half of electro-pop giants Goldfrapp plus members of Portishead and Florence & the Machine.

Also performing will be acclaimed classical Australian saxophone star, Amy Dickson and heartthrob Welsh tenor Tristan Llyr Griffiths. Audience members will be able to get up close to the musicians, walk around the venue during the concert and submit Tweets and selfies via the live stream social wall.

Featuring some of the most recognisable pieces of classical music ever composed, this will be the first time that Classical Playlist:LIVE has been hosted in Cardiff and you will recognise the music including Prokofiev 'Dance of the Knights' (The Apprentice theme tune) and Beethoven 'Scherzo from Symphony No 9' (A Clockwork Orange).

Exciting light effects, bars and street food stalls will complete this laidback classical experience for all music lovers.