Bez (Happy Mondays) DJ Set Tickets
Strings Bar & Venue, Newport.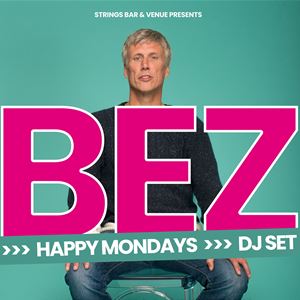 This event is for 18 and over - No refunds will be issued for under 18s.
More information about Bez (Happy Mondays) DJ Set tickets
The man, the myth, the legend.
There's a lot to be said for simply being yourself. Just ask Bez AKA Mark Berry, who's forged a route to the heart of the nation simply by being himself, an Energizer Bunny indie icon who's endured from the Happy Mondays heyday to winning Celebrity Big Brother. And let's be honest, anyone who can survive – no strive – during the Happy Mondays heyday and is here to tell the story, boggle-eyed dancing and all, deserves our respect.
The band were at the forefront of the Madchester scene, combining the blissful energy of the emerging dance music and acid house scene with an indie ethos. Signed to Factory Records, Happy Mondays encapsulated everything great about Madchester from the jangly pop of The Smiths to the pioneering electronic vibes of New Order. And with ring-leader Shaun Ryder creating a low-slung sleazy dancefloor sound and Bez leading the party from the front, all rubber-limbed moves and boggle-eyed stares, their man-don't-give-a-fuck attitude and everyman-approach won them fans around the world.
Yes, he's still the indie icon, the dancing loon, the friendly Peter Pan of indie, the fresh-faced (that'll be the juicing) star of indie and Hacienda nights across the country, the genial host of UK-wide club night And On The Sixth Day God Created Manchester and regular globe-trotting DJ dates and TV appearances. And, while his hip might be a bit wonky from years of pogoing and freaky dancin', he's still the Happy Mondays indie metronome, touring the world with his partners in loose 4/4 time, once again proving he's the bee's knees, an undimmed, full voltage light still shining bright 40 years into his career: Bez just being Bez.