Big Bad Wolf (Basement Jazz)
The Basement, York.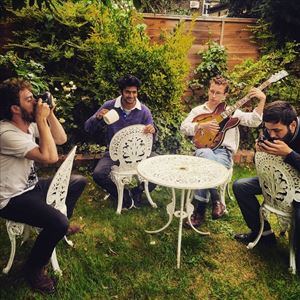 Basement Jazz
22/6/18

20:00
After you buy, click Split It With PayPal

to easily split ticket money with friends.
More information about Big Bad Wolf (Basement Jazz) tickets
Really excited to have Big Bad Wolf in for this one. Washed out guitars paired with trombone, ambient vocals and rock influences make this a unique band!
We've been a big fan of their Pond Life album for a while now, and was delighted to have drummer Jay Davis through earlier this month already with Alex Hitchcock.
Big Bad Wolf is a London based band featuring washy guitars, ambient vocals, brassy hooks and deep grooves…
...this distinctive sound arises largely from the band's consistently egalitarian process of group composition, where all 4 members are present from conception to completion of each song. Starting each writing session by recording an open-ended group improvisation, they then listen back, pick out the best ideas and then develop them into intricate and concise pieces of music. Big Bad Wolf have developed a unique way to bridge the gap between improvised music and contemporary pop/rock styles. All four band members have a strong grounding in jazz from their studies on the prestigious jazz course at the Royal Academy of Music and at Leeds College of Music. From this background, the band strives to constantly push the boundaries and blur the edges of the genre through a wealth of influences, from Bjork to Radiohead to Bill Frisell, brought to the table by each member to the group. From the band's first experimentations in late 2014 there has always been a primary focus on the instrumental blend within the slightly unconventional line up (trombone, guitar, bass VI and drums) and how to work that into forging an individual, contemporary sound whilst still honouring the improvisational element of the jazz tradition.
"Chill-out music with verve" - Jane Cornwell, Evening Standard
"One of the best albums I've heard this year" - Mike Flynn (Jazzwise) on Europe Jazz Media
"The title track affirms how inventively the quartet juggle tone colour, constantly renewing sub-themes, and subtly shifting grooves" - John Fordham, The Guardian
"At its best this quartet's debut displays a very British quirkiness" - Clive Davis, The Sunday Times
https://open.spotify.com/artist/7z1cvTP8zhFW2KDGjE2NPY?si=JBVHS7SxSYK5PoiOoYXK6A