BIG BRAVE + LAZHARUS
Wurlitzer Ballroom, Madrid.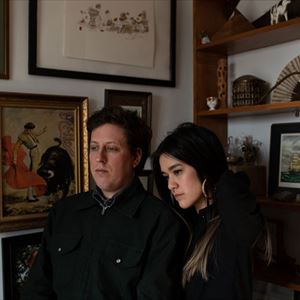 Under 16s must be accompanied by an adult. We cannot issue refunds to under 16s who are not accompanied by an adult.
More information about BIG BRAVE + LAZHARUS tickets
Big Brave (USA/Southern Lord)
+
Lazharus (ES/Nooirax)

Jueves 29 de abril de 2021 @ Wurlitzer Ballroom
22.00h * 13€ + gastos anticipada / 16€ taquilla

Desde su formación en 2012, BIG BRAVE ha explorado profundamente el rock experimental centrándose en los crudos aspectos del espacio, el volumen y las emociones. Esa esencia mágica de la banda es lo que les ha permitido desarrollar una balanza entre lo dinámico, y los momentos puros que emanan del poder del silencio. Estos mismos principios, son lo que marcan el punto de inicio de su nuevo álbum. Únicamente cambia la manera de entenderlos primerizamente, empezando por la pregunta: «¿Cómo cogemos las pequeñas piezas y construimos algo mucho más grande de lo que tenemos ahora? «. La respuesta la da el propio vocalista Robin Wattie: «El mayor desafío fue no basarse en lo sencillo. Todo lo que sabíamos funcionó en el anterior álbum y fue fácil de escribir para nosotros. Por ello, con 'A Gaze Among Them', nos hemos puesto al límite. No quería que fuera un compendio de lo que se esperaba que hiciéramos en cada momento. Lo predecible. Quería volver a nuestros orígenes y empezar de cero (espacio, tensión, minimalismo y voz)» .

En el proceso de volver a sus orígenes, BIG BRAVE ha evolucionado y ha surgido como un nuevo cuerpo de trabajo refrescante, explosivo, dinámico, minimalista y catártico. Su último álbum fue grabado de la mano de Seth Manchester en Machine with Magnets (Pawtucket Rhode Island). El grupo ha rejuvenecido y se ha vuelto más y más confiado.
La música de LAZHARUS se inspira en esos rincones oscuros donde no llega la luz, los ambientes opresivos, la película Terminator II, los cómics de Conan El Bárbaro, la niebla de las cumbres más altas, el poder de la naturaleza, el paganismo y la contracultura, entre otras muchas influencias. Reclama lo analógico y la música sin ordenadores ni tecnologías modernas, defiende la música hecha por las máquinas que algún un día acabaran dominando la humanidad.