Billie Marten
Lancaster Library, Lancaster.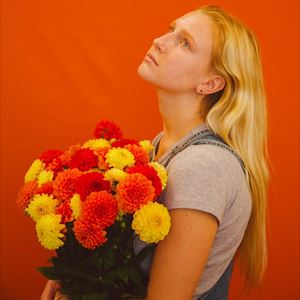 This show is an afternoon matinee with doors at 2.30pm and stage time for support pencilled for 2.45pm.

The event should finish by 4.30pm.

If you have special seating requirements, please speak to a member of staff before doors and we will be happy to allow you priority access.
More information about Billie Marten tickets
Billie –born Isabella Sophie Tweddle – got her early start in music thanks to parents who surrounded her with the music of Nick Drake, John Martyn, Joni Mitchell, Joan Armatrading, Kate Bush, Loudon Wainwright III and northern folk artist Chris Wood (who once told a nine-year-old Billie to "go for it!"). The family lived in the pastoral rolling hills of Ripon, North Yorkshire, where Billie grew up in and around the Dales. "I feel a lot of emotion [in nature]," she says. "Like this extreme form of empathy. I find it a very comforting blanket. It cradles you, it's always there. It's not going away."
Built on the minimalist acoustic folk she made a name for herself with, Billie Marten's breath-taking new record Flora Fauna is a mature, embodied collection of songs fostered around a backbone of bass and rhythm. "When I was younger, I was quite trepidatious in my songwriting," she reflects, while sitting in the winter sunshine in her adopted home of East London. "I concealed myself in my music. Now, I've gained more personal strength than I had before, I was so obsessed with what people thought of me then. Over time, you learn to care a bit less – and you start writing about the things that really matter."
Billie was then signed to Chess Club Records, an imprint of Sony, "the day before my Maths GCSE". I was revising and then signing in this big glass boardroom." Not long afterwards, she was nominated for the BBC Sound of 2016, making fans out of Radio 1 tastemakers like Annie Mac and Huw Stephens. Her critically acclaimed debut album, Writing of Blues and Yellows, was a diarist, open-hearted collection of quietly beautiful songs released in 2016, when she was still just 17. The following year, she moved to London, where she worked on her 2019 follow-up, Feeding Seahorses By Hand, which The Line of Best Fit declared a "gentle and reserved masterpiece".
Towards the end of 2019, Billie underwent a total overhaul, leaving Sony and choosing a new management team. She then went back into the studio and reunited with producer Rich Cooper – whom she worked with on Blues and Yellows – Billie felt empowered to experiment and rediscover herself. "I picked up the bass instead of the guitar – which made all my rhythms different, because I can't play bass," she laughs. "That made everything a lot punchier and more direct." With Rich adding drums to the songs as they were being written, the sound they developed together was one with a rapid pulse and rich instrumentation. The list of inspirations Billie brought to the studio roamed from krautrockers Can – "their rhythms are just bizarre, and don't make any sense" – to Broadcast, Arthur Russell, and Fiona Apple. "It was such freedom to play, and just be, and explore different corners of me that I hadn't before."
The result was Flora Fauna, a confident and full-chested album that sheds the timidity of Billie's previous work in favour of a more urgent sound. The songs tell a story of personal growth, and what it takes to flourish. "I wasn't really treating myself very well – I wasn't very kind to my body," Billie reflects. "It was a bit of a disruptive time. All of these songs are about getting myself out of that hole; they're quite strong affirmations." As well as independence in her musical career, they mark a period of personal independence for Billie, as she learned how to nurture herself and break free from toxic relationships – and a big part of that was going back to nature. "The name Flora Fauna is like a green bath for my eyes," she says. "If the album was a painting, it would look like flora and fauna to me, it encompasses every organism, every corner of Earth, a feeling of total abundance."