BIZNAGA
Sala Upload, Barcelona.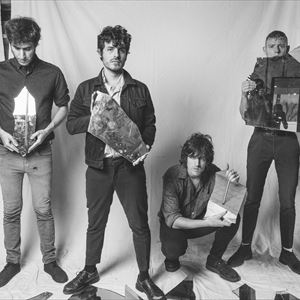 This event is for 18 and over - No refunds will be issued for under 18s.
More information about BIZNAGA tickets
BIZNAGA
+ Artista invitado
Viernes 15 de mayo de 2020 | Barcelona @ Sala Upload
20:00 horas * 12€ + gastos anticipada / 15€ taquilla
HORARIOS:
20:00 - Apertura de puertas
20:45 - Banda TBC
22:00 - Biznaga
BIZNAGA (ESP)
La banda de rock más grande de todos los tiempos dijo: 'Todo lo que digáis que somos, lo somos y aún peor'. Biznaga comulgaría con ese lema si no fuera porque le importa una mierda eso del rock. Aparecieron durante el año 2012 y… ¿de verdad no los conoces? ¿en serio? Si estás leyendo esta especie de biografía del grupo es que vas en serio. Lo siento, me das un poco pena, porque significa que has debido estar en coma o algo así. Por eso no voy a insultarte, pero sí recomendarte que retomes tu vida en el 2014, cuando sacaron su primer disco largo, 'Centro Dramático Nacional', ejercicio de acelerado y cenizo folklore electrificado, que se coló en los primeros puestos de todas las listas con lo mejor de aquel excitante curso. Después de eso, mientras tú dormías, se recorrieron todo ese estado mental llamado España, llevando su arte allí dónde supieron apreciarlo. En 2105 y 2016 igual. Entonces llegó 2107 y sacaron Sentido del Espectáculo con un sello norteamericano, que siempre da más caché, y volvió a repetirse la movida: audiencias más numerosas, al otro lado del charco también, y un eco mayor en los medios especializados. En 2018 y 2019 igual con presencia en festvales como Mad Cool, FIB, Vive Latino, Low Festival… Así hasta hoy, que es casi 2k20. Si estás leyendo esto es que has salido del coma ¡Felicidades!, pero debes estar confuso, todo ha pasado muy rápido. El mundo ha cambiado. La gente hace cosas muy raras como llevar la riñonera a modo de bandolera, o escribir 2k20 en vez de 2020. No tengas miedo. No te agobies. Simplemente permanece conectado a Gran Pantalla, y lo entenderás todo.