Blackwater Conspiracy
The Warehouse, Leeds.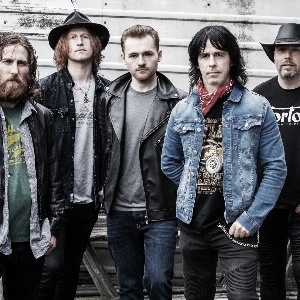 Under 18s must be accompanied by an adult. We cannot issue refunds to under 18s who are not accompanied by an adult.
More information about Blackwater Conspiracy tickets
"…You're unlikely to hear a better straight ahead rock 'n' roll record this year. You can trace the low slung guitars of Monday
Club and Roll The Dice back to The Faces and Exile-era Stones…" 7/10 – CLASSIC ROCK
" 'Shooting The Breeze' is simply masterful and gives all those new rough blues rockers a run for their money". 10/10 Album
Of The Month – POWERPLAY
"Blackwater Conspiracy stand out, not because what they do is necessarily new, but because they're supremely good at it".
4/5 – PLANET ROCK
Ask anyone Irish and they'll tell you music is in their blood, and so it is with Blackwater Conspiracy from County Tyrone, Northern Ireland.
Their debut album "Shootin' The Breeze" was released June 2017 in the UK to wholesale critical acclaim. Festival slots at Download,
Steelhouse and Ramblin' Man Fair (2017 & 2019) and also high octane tours supporting Tyler Bryant & The Shakedown, Kris Barras,
Joanne Shaw Taylor, along with three headline UK club tours cemented their reputation on the live scene. Blackwater Conspiracy's debut
appearance at Ramblin' Man Fair was even featured in "10 Of The Greatest Ramblin' Man Sets So Far", on the festivals offi cial website.
Early 2020 saw the release of the bands second album "Two Tails & The Dirty Truth Of Love & Revolution", an album that further
went to highlight their musical diversity and unique approach to song craft. Upon it's release, "Two Tails…" debuted at #3 on the Offi cial
UK Rock & Metal Album Chart and #2 on the Offi cial UK Independent Album Breakers Chart. Blackwater Conspiracy continue to go from
strength to strength, spreading their heady musical cocktail for more to discover.
The story of the band is the story of 5 guys from Northern Ireland who have played music all their lives. Having crossed paths frequently
over the years they came together as Blackwater Conspiracy in the Summer of 2015, formed from the ashes of two of the country's most
popular local bands, Million Dollar Reload and Swanee River.
Their intention from the outset was no more following of trends, no more conforming to what was expected – they are 5 individuals wanting
to fully express themselves whilst playing in a band. Sounds simple, but consider a pianist taking inspiration from Brian Stetzer and Jerry
Lee Lewis, a bass player infl uenced by Iron Maiden and Thin Lizzy, a drummer driven by everyone from Buddy Rich to Danny Carey and
two guitar players oozing The Stones, The Faces and The Black Crowes – you're going to create a pretty unique musical melting pot.
Songwriters Phil Conalane and Brian Mallon take a refreshingly free-form approach to their songs, thus allowing all this individual expression
to take place. The result is a breathtaking panorama of material – from rich bluesy slide guitar rock to achingly delicate confessional
country; from galloping radio friendly rock 'n' roll to late night dark corner whiskey blues. The band play with a confi dence and effortless
ease, the arrangements are epic and it's all woven together with one of the most naturally expressive classic rock voices in the world
today.
Like the River Blackwater, the geographical link that ties each member together, and from where they take their name, there is an unstoppable
fl ow, a natural power and order of things present here – this is the essence of Blackwater Conspiracy.
BLACKWATER CONSPIRACY are;
Phil Conalane – Vocals / Rhythm Guitar
Brian Mallon – Lead Guitar / Backing Vocals
Kie McMurray – Bass Guitar / Backing Vocals
Aaron Connelly – Keyboards / Backing Vocals
Fionn O'Hagain – Drums
www.BLACKWATERCONSPIRACY.com