blanket
The Head Of Steam, Newcastle Upon Tyne.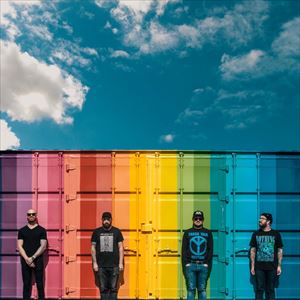 eastside events present
BLANKET
plus guests
Tuesday 22nd October 2019
Newcastle Head of Steam
Doors 7pm
This event is for over 16s only - No refunds will be issued for under 16s.
More information about blanket tickets
blanket, as the name suggests, envelop the listener in a comforting quilt of sound, transporting them to dreamy landscapes of sweeping, celestial beauty with a kaleidoscopic symphony of soaring guitars, tinkling piano, warm bass and propulsive drums. In essence, it's ambient music on a cinematic scale.
Initial ideas and early demos came together at the beginning of 2016, as guitarists Bobby Pook and Simon Morgan would routinely retire to the conservatory of their rented home in Blackpool to noodle on guitars, tinkle ivories and write intertwining melodies, all whilst gazing wistfully skywards at the stars above them. It was perhaps such a sublime view that infused the music they created within that glass retreat with such elegance, purity and grace.
Movie soundtracks were key components of the pair's inspiration with the aim being to write heavy rock music suffused with the far-reaching, ample emotional resonance demanded of film scores. They sought to write music using broad, expansive cinematic strokes, creating visuals to accompany and expand on their already vivid compositions. Contemporary bands that seek to push boundaries and explore multiple musical pastures also influenced their approach, including but not limited to Caspian, Failure, Sigur Rós, This Will Destroy You and Radiohead. Pook and Morgan fleshed out their ideas even further with the addition of Matthew Sheldon and Steven Pellatt in the summer of 2016; blanket was now a fully-fledged proposition.
How To Let Go, the quartet's debut full-length album, takes dexterous ambient textures and amplifies them through a deeply resonant, emotional filter. It's a blissful 55-minute exploration of imagination, wonder and the human spirit, designed to uplift, enchant and provide a beautiforous escape from an often harsh and confounding reality. Gorgeous, textures lap over the listener, like a wave of euphoria as the band's sound builds to an overwhelming crescendo; it's wondrous music, designed to inspire vivid minds and transport the listener to a euphoric state of consciousness. One moment, blanket can evoke the fragility and desolation of a lone survivor drifting through the vast reaches of the cosmos, whilst the next they can be as cacophonous as the sound of the entire universe collapsing in on itself. Its dazzling ambition far outreaches what most bands even attempt on their debut album.
Despite vocals being sparse, there's a very strong connection to the human condition throughout How To Let Go's 10 tracks. Themes of the universe and our place within it as well as our own mental well-being are pertinent throughout the record. It's a record that encourages us to seek change within ourselves if we want to see change in the universe as a whole. How To Let Go acts as a beacon for human-kind, providing momentary stabilisation in a topsy-turvey tumultuous world.
blanket have already been making waves live with extensive touring in Europe and the UK, as well as performing a hypnotic, otherworldly set at the prestigious ArcTanGent Festival. With the release of How To Let Go via Music For Nations, blanket are grasping every opportunity to take their music to the masses.
blanket are:
Bobby Pook – guitar & vocals
Simon Morgan – guitar & backing vocals
Matthew Sheldon – bass
Steven Pellatt - drums
blanket online:
https://www.facebook.com/blanketsounds/
https://twitter.com/blanketsounds
https://www.instagram.com/blanketsounds/
http://blanketsounds.bandcamp.com/