Blaze Bayley
Robin 2, Wolverhampton.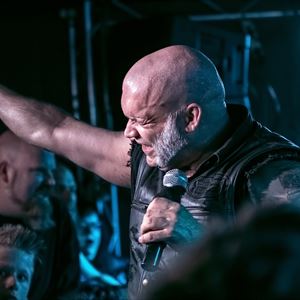 World Tour.
Legendary Iron Maiden vocalist 1994-1999
No under 14s in the standing area, 14 - 17s must be accompanied by an adult. No refunds will be given for incorrectly booked tickets.
More information about Blaze Bayley tickets
+ Support
BLAZE BAYLEY is a singer/songwriter born 29th May 1963 in Birmingham,
England. Having started his professional music career in WOLFSBANE in 1984, his career elevated to global heights when he joined IRON MAIDEN with whom he released two albums and toured worldwide between 1994 and 1999.
After leaving Iron Maiden, Blaze embarked on a solo career, during which he has released 8 albums up to 2016 and has enjoyed an enviable reputation as one of the hardest working artists touring worldwide.
In 2015 Blaze celebrated the 15th anniversary of his first solo release 'Silicon Messiah' and in 2016 saw a significant worldwide resurgence of interest in his career, not least with the release of 'Infinite Entanglement', his first new studio album in four years. His 2016 European Tour covered some 70 dates, whilst he also toured Latin America and Canada.
Blaze joined DISTURBED onstage at the 2016 Download Festival for a rendition of 'Baba O'Riley' by THE WHO, was recently accompanied onstage in Poland by Swedish metalheads SABATON for a version of Maiden classic 'Man On The Edge', and is a guest vocalist on the latest album by former QUEENSRYCHE singer Geoff Tate.
Whilst Classic Rock magazine, Powerplay and more, have provided special features and interviews this year, the reviews have also been unanimous in hailing 'Infinite Entanglement' as a triumph. For example….
'wonderful moments, great beating brilliance, Maiden riffs, solos that blast off into space, pushy pieces, singalong choruses' Powerplay 'Infinite Entanglement' is the first in a trilogy of albums following a sci-fi concept connected with a fictional story, rooted in the science fact of quantum physics. The two follow up albums are due in March 2017 and March 2018 respectively, whilst a book and PC game are also in development. For writing, recording and touring Blaze has enlisted three musicians from British metal band ABSOLVA and, along with new management in 2016, has found a consistency of purpose and continuity which has clearly been welcomed by fans. At the same time, alongside the unwavering support of the fans of his solo career, he has seen this positivity register with a new younger audience, as well as the more established Maiden fanbase.
Fireworks magazine summarised very well in their recent 'Infinite Entanglement' album review….
'The best thing he has yet to release under his solo banner…
Look forward to hearing what happens next…
The future is indeed bright' Video links from the Infinite Entanglement album….
'Infinite Entanglement' https://youtu.be/CCXpqkK8i1Y
'Human' https://youtu.be/gk2dK8k_uzE
Website www.blazebayley.net