BLEAKHAUS. Presents: Blacklisters + USA Nails
Wharf Chambers, Leeds.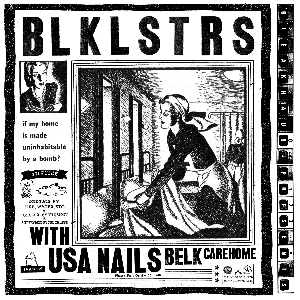 This is a 16+ event. All under 18s must leave before 11:00pm.

*** Wharf Chambers is a members' club and you need to be a member, or guest of a member, in order to attend. Please visit
wharfchambers.org/join
. Membership costs £1 and requires a minimum of 48 hours to take effect. ***
Under 16s must be accompanied by an adult. We cannot issue refunds to under 16s who are not accompanied by an adult.
More information about BLEAKHAUS. Presents: Blacklisters + USA Nails tickets
BLCKLSTRS:






Somewhat stalwarts of the noise-driven side of Leeds' punk scene, BLACKLISTERS have been displaced by both life and geography, yet surprisingly announced they had finished their new album just as the world had gone to shit. 'Fantastic Man' is BLACKLISTERS at their most chaotic, unhinged and intense, which is exactly what is wanted from an act like these. Twelve years into their life as a band, Blacklisters remain a noise-rock powerhouse with no sign of stopping any time soon. If anything, their harsh, creative music has only gotten more vibrant and more energetic.






https://blacklisters.bandcamp.com/album/fantastic-man







USA Nails:






2020 also saw USA Nails release their fifth album 'Character Stop', the record was tracked live over four days at Bear Bites Horse in London with producer Wayne Adams. Though 'Character Stop' still features the pummelling noise-punk that USA Nails have become renowned for, it's balanced with more sober, downbeat moments.




On it they explore identity - like the online personas of aggressive twitter users, influencers and vloggers, as well as more introspective takes on mental health, giving up on dreams, the joy (and despair) of being a part-timer, and contemplating who they would be if they decided to hang up their guitars for good.




Guitarist Gareth Thomas comments, "For me 'Character Stop' is the best album USA Nails have ever made by miles. I'm obviously still really happy with all the music we've written up to this point, but on this record everything seemed to come together so sweetly. "




We love it - and are glad that they finally get to perform it in front of an audience!






https://usanails.bandcamp.com/album/character-stop






Belk:






One of our favourite new live acts in Leeds. Angular, hectic, rage-fuelled industrial noise rock. Only two of 'em but boy do they make a lot of noise. They have released two wicked EPs thus far and we're excited to see where they're at by November...











Care Home:






First ever gig. We've got no clue what this lot sounds like. Presumably dark noise-rock/post-punk? Watch this space tho!





*** Wharf Chambers is a members' club and you need to be a member, or guest of a member, in order to attend. Please visit wharfchambers.org/join. Membership costs £1 and requires a minimum of 48 hours to take effect. ***