Bodys presents: Carpet + Fred M-G Tickets
Establishment Music Hall, Wakefield.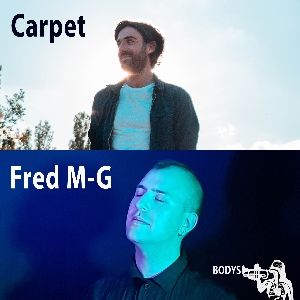 9.15pm Carpet
Carpet is the moniker of musician and recording-engineer, Rob Slater.
Slater's songs offer a deep commitment to introspection that unsettles, but also somehow comforts, with sure-footed movement through the hidden lives of thoughts most of us let pass without questioning. Although some remnants of Slater's noisier past remain (The Spills), sitting in a steady landscape of uneasiness Carpet is laced with a softer kind of angst, worn like a gift - the last scrapings of 20s torment, held delicately in their disquiet. His first EP, self-titled, was released in 2021, and another is to follow in 2022. Listen to Carpet here.
Crafted in his own Greenmount Studios, largely in solitude bar some appearances from close friends, Carpet is the product of Slater returning to the freedom, mystery and magic that first attracted him to recording on a 4-track cassette recorder as a teen - bringing the spirit of lo-fi bedroom recording into the studio, along with that initial excitement and exploration of the 'home demo'.
As an engineer, Slater has worked with countless artists over the last decade (recent projects include Yard Act, Thank, Jake Whiskin, as well as his own bands Mi Mye and Crake). In-between these sessions he spends his time alone, working up songs from his home-demos onto a beloved 16-track 3M 2" tape machine – a process that Slater has become quite familiar with as well as fond of.
8.30pm Fred M-G
Fred M-G is a project of Fred from ZoZo/M-G Dysfunction.
The songs he plays in this set are ones he's been sitting on for years and years, but which have only been played out a handful of times.
This gig may well be the final airing for some of them, at least for a fairly long while.
Some of the songs sound a bit like Arthur Russell, maybe; some of them sound a bit like Richard Dawson, maybe. You can have a listen and see for yourself -
https://youtu.be/gY_ktFefvWE
About the Venue
This show is in the music hall of The Establishment Wakefield on Westgate, turn left when you go through the main door. The Establishment is located close to Wakefield Westgate train station. The gig will finish at 10pm, giving you plenty of time to get the last train.
The show will be standing, but if you would like to sit please email bodyswakefield at gmail dot com
Establishment disabled access: Entrance/ exit: 1 step - no ramp. Toilets: no disabled toilets, toilets upstairs. Viewing: all one level - seating available. We will make sure everyone can see if view is obstructed.
About Bodys
Bodys is a gig promoter in Wakefield, run by Emily since the start of 2019. We put on shows on the first Thursday of the month in the music hall at The Establishment, as well as other one-offs at other venues around town. Find out more about us on facebook, twitter and instagram. The gigs usually have two acts, times are always posted well in advance, and gigs finish early (10pm) when buses and trains are still running, and you can go get an early night if you want one :)
This event is for 18 and over - No refunds will be issued for under 18s.
More information about Bodys presents: Carpet + Fred M-G tickets