Bodys presents: Lucy Feliz + Rory & theNatureKids Tickets
Establishment Music Hall, Wakefield.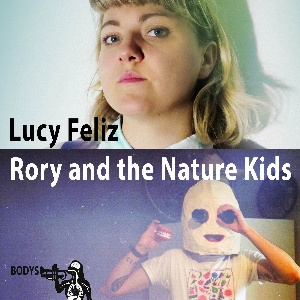 9.15pm Lucy Feliz
Brighton based artist Lucy Feliz writes with nostalgic intimacy, neatly dovetailing her subconscious writing style with a blend of impressionistic indie. Born out of a secret solo project entitled 'LosFeliz'; inspired by an existential trip to the Griffith Observatory in LA; Lucy's work has a veiled mystery to it – delving into Jungian ideals.
Lucy released her second album, The Last Sun, in 2020 on Edinburgh's OK Pal records listen here.
With a new record on the radar in 2022, Lucy is currently testing the waters with a live set which includes some of her newest sounds.
"While there's an ethereal mood to Feliz's work, here it certainly feels kinda magic!" – Secret Meeting Blog
8.30pm Rory and the Nature Kids
Rory and the Nature Kids is the brainchild of front man Rory Welbrock, who after exhausting the walls of his bedroom with his melancholic, melody driven music decided enough was enough. It was time to form a kicking rock group and take over the world.
Rory has been writing, recording and releasing bedroom demos for over ten years with the odd gig exposing his otherwise introverted approach.
He is joined by long term collaborator James Ridgway on drums, top legend and shredder extraordinaire Eve Creighton on lead guitar and bass player/retired dairy farmer Tristan Myatt.
Rory and the Nature Kids play a kind of alternative wonky pop music which aims to pluck the heart strings of your inner child through simple, lullaby-like melodies, all the while attempting to tackle adult themes such as love, death and identity through carefully crafted lyrics and vivid metaphor. They are currently honing their sound and plan to record and release their first single over the summer of 2022. From there, a media frenzy and guaranteed super stardom.
About the Venue
This show is in the music hall of The Establishment Wakefield on Westgate, turn left when you go through the main door. The Establishment is located close to Wakefield Westgate train station. The gig will finish at 10pm, giving you plenty of time to get the last train.
The show will be standing, but if you would like to sit please email bodyswakefield at gmail dot com
Establishment disabled access: Entrance/ exit: 1 step - no ramp. Toilets: no disabled toilets, toilets upstairs. Viewing: all one level - seating available. We will make sure everyone can see if view is obstructed.
About Bodys
Bodys is a gig promoter in Wakefield, run by Emily since the start of 2019. We put on shows on the first Thursday of the month in the music hall at The Establishment, as well as other one-offs at other venues around town. Find out more about us on facebook, twitter and instagram. The gigs usually have two acts, times are always posted well in advance, and gigs finish early (10pm) when buses and trains are still running, and you can go get an early night if you want one :)
This event is for 18 and over - No refunds will be issued for under 18s.
More information about Bodys presents: Lucy Feliz + Rory & theNatureKids tickets